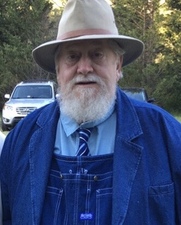 Tommy Lincoln Earnest
July 12, 1941 - August 16, 2019
Tommy Lincoln Earnest Sr, born July 12th, 1941 in Rock, WV passed away August 16th, 2019 at his home. He is preceded in death by his parents Fred and Ruth Earnest, infant sister Patricia, and son Christopher. He proudly served our nation as a US Marine, serving in Vietnam and various military bases in Japan and across the USA. He was a retired police officer from Concord College in WV. He is survived by his wife of 55 years, Marie, along with his son Tommy Jr and wife Amanda, son Patrick, and the five lights of his life, his grandchildren Issac, Leah, Megan, Seth, and Miles. He is also survived by his sister Cindy Minnix and her husband Eddie as well as many nieces, nephews, extended family, and friends including Dr Michael Payne and family. Visitation will be Saturday August 24,2019 at Gardner Funeral Home from 2pm to 4pm. There are no graveside services.
---
Guest book
Amber Shellhammer and Virginia Turpin
Asheboro, NC
August 17, 2019
Sorry to hear about Tommy. My prayers are with you and the family.
---
Ann Shawhan

August 17, 2019
It is hard to lose one's father and harder still when he was such a great man. My heartfelt condolences to the whole family. May he be at peace, and your heart's find ease.
---
Susan Martin Williams
Princeton, WV
August 17, 2019
I'm so sorry to see this. Your family is such an important part of our childhood. I miss those days! My heart goes out to you all!
---
Debbie and family
Onalaska Wi
August 18, 2019
Im honored to have met and spent time with such a great man. We are pained in his passing but find comfort in knowing hes no longer suffering. May his family and my best friend feel the love here for them all. Rest in peace Tommy Semper Fidelis
---
Mary Ellen
Kindred at home PT
August 22, 2019
Gosh, Marie and all. I am so sorry for the loss of Tommy. Leaves such a big hole in this world. I so enjoyed working with him... he told a good story. I pray that you all find peace in each other sharing memories of Tommy. I will see you Saturday.
---
Mary Ellen Hartley
CBurg
August 23, 2019
I am honored to have known Tommy, to have had the opportunity to work with him, listening to his stories, his laugh. A good soul. A big loss for all. Keeping all of you in my prayers.
---
Janie Tricarico
Princeton WV
August 23, 2019
Cindy I am sorry for your loss. Love you Prayers for you and your family
---
Cindy Earnest Minnix
Ballard, WV
August 23, 2019
There are no words that I could write to tell you that I love you so much. I am so proud to be your sister. Thank you for all that you have done. I am going to miss you. Love, Your sister
---
Marcia Payne
Lexington, KY
August 25, 2019
I offer my sincere condolences for your loss, Marie, Patrick, and little Tommy. Tommy will be missed, and all of you are in my thoughts.
---
Sign the Guest Book for Tommy Lincoln Earnest