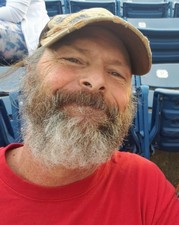 Brian Jay Bean
November 22, 1968 - September 07, 2019
Brian Bean went home on September 7, 2019 to join his loved ones already there. We are sure among the first to greet him were Jesus Christ, his dad and his grandparents. Those who must wait to join him are Angie Thompson, the love of his life, his mom and stepdad, David and Nina Conroy, his children Brandi Tabor, Jessica Lyttle, Dylan Bean, Sherry and son-in-law Steven Handy and Tiger Lilly Thompson. Grandchildren Kara and Landen Tabor, Cora Ella and Leah Handy, Brothers and wives, Dan and Ann Bean, Mike and Liz Bean, Sister Marci Lyons and sweetheart Eddie Ober, Nieces and nephews, other family and countless friends. A special thanks to Ginny Hale for her help during these hard times. Funeral services will be Thursday, September 12, 2019 at 2pm at Gardner Funeral Home with Pastor Phil officiating. Interment will follow in Big Sands cemetery. The family will receive friends Wednesday September 11, 2019 at Gardner Funeral Home from 6-8pm. Online condolences may be made http://gardnerfuneralhomefloyd.com or on Facebook @gardnerfuneralhomefloyd. The family is being served by Gardner Funeral Home.
---
Guest book
Barry Nolen
Floyd Va
September 08, 2019
Im sorry for your loss, may God bless and comfort you all through this hard time. Praying for all the family and friends.
---
April laviolette
Lexington, NC
September 08, 2019
You're in the arms of the angels, may you find some comfort now.
---
Jennifer Caldwell Billstrom
Black Mountain NC
September 09, 2019
The day the Bean Family arrived in Indian Valley the Valley became lots more interesting. I have fond memories of playing and riding horses with Brian and Marci from the moment that they became my new next door neighbors. Today I am sending love and light to the entire family.
---
Bill and Kara Rimer
Roanoke
September 09, 2019
My husband Bill and I had the pleasure of meeting Brian 2 years ago through his girlfriend Angie. It' was an instant friendship; He was always friendly, kind, helpful and loving . We had good times playing dice, listening to music outside,, fun times at our ACI Christmas parties and summer picnics and just hanging out. We will miss him greatly . His friendly smile behind that incredible beard and wearing one of his awesome Harley shirts is the way we will remember him. We know Brian is in the presence of the Lord free from the pain he was experiencing here in his Earthly body You will be in our thoughts forever and one day we'll meet again friend
---
Teresa & Keith Guthrie
Roanoke, VA
September 09, 2019
This world lost a beautiful soul with Brian's departure to Heaven. He was gentle, kind, compassionate and embraced life. He was a gift to this world and made it a better place. My deepest condolences to Marci, his beautiful love - Angie and his family. Brian is well and thriving and you will see him again. Prayers and thoughts continue for you all, Love in Christ, Teresa & Keith Guthrie
---
Corinne Blackmon
Pilot,Va
September 10, 2019
It's a sad moment in a parent's life when you lose a child and it's definitely not something you will ever get over. With Our Heavenly Father's arms wrapped around you giving you the comfort you so desperately need you will get through it. I believe when the time comes you will be reunited with Brian and the rest of your loved ones that have crossed through to the other side. This message is for all of Brian's family and friends. I am truly sorry for your loss.
---
Scottie Dunbar

September 10, 2019
Crash the first time we met I think it was Thunder Thursday ? Whem I told you who we was it semmed like i found my long lost friend and brother. Then it seemed whem we saw you we saw Guard Rail and Crash and I told Chelle I know how you 2 got together was Brian Crashed into Angie saved him from the cliff hints Guard Rail now I can say keep it twisted and you Tackle Box ride free Love you my friend and brother until we meet again
---
Beth Graham
Hillsville, VA
September 11, 2019
Brian had lots of energy and humor that was put to good use raising three children. His expertise at construction kept him busy at work and at home. He could be found with friends and family on a regular basis enjoying each other's company.
---
Tommy Gaham
Bluefield VA
September 11, 2019
I worked with Brian for several years and were friends for the years after. He was always quick to smile and always talked about his kids. Sorry for your loss.
---
Joe "Hammer" Italiano
Floyd
September 13, 2019
So sorry for your loss. Great memories of working with Brian and the rest of the crew back in the mid 90's. Many a ski trip and river float wouldn't have been the same without Brian. Rest in peace my friend!
---
Angie
Roanoke, VA
September 13, 2019
My Love rode fast and flew high to the opened heavens when he left us . . . I miss you so much Brian I love you forever Angie
---
Diana Hatcher
Natural Bridge Va
September 18, 2019
May you rest in peace and I hope to see you in heaven one day with Marci and Angie. You are a very loved soul.
---
Sign the Guest Book for Brian Jay Bean