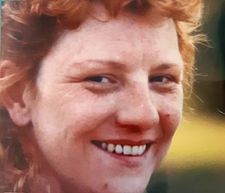 Gail Garland Hooks
September 29, 1953 - October 02, 2019
Our life changed on Friday February 13th 2015 as we started down a medical rabbit hole. On March 13th, our wonderland got real scary. Gail was diagnosed with Pancreatic Cancer. So began a life of doctors and treatments, positive thinking and disappointment, operations and remissions, hopes and fears, trials and possibilities, wisdom and folly. Gail fought every step of the way, but, as with each of us, there comes a time to lay down and rest. She was placed in Hospice at the end of August and passed away last night. She was so strong and only recently allowed herself to think this old world was going to beat her. Tonight she stepped into the Great Mystery. Never one to shy away from a challenge, she accepted this one more quietly than those used to Gail would have expected. She peacefully slipped away, surrounded by loved ones at the end and who could ask for more than that. I've tried to sleep, distract myself with thoughts of arrangements and finally felt I had to say these things out loud to the universe. I've spent months getting ready for something no one can get ready for and have now lost my anchor and my reason for being. The hollowness of grief is bigger and heavier than I expected, but knowing my sweetie is beyond the pain of this world and can finally remember her joy gives me strength. A time of casual celebration will be held at Gardner Funeral Home on Saturday October 5, 2019 from 2 until 4 PM. In lieu of flowers, please help someone with their battle with cancer, that was Gail's wish. Online condolences may be made http://www.gardnerfuneralhomefloyd.com or on Facebook @gardnerfuneralhomefloyd.
---
Guest book
Sandy Mabery
Floyd
October 03, 2019
Such a sweet lady. Really enjoyed working with Gail, she had the greatest laugh and laughed so easily, she made work fun. Love you both dearly.
---
Jean Wright
Check, VA
October 04, 2019
I am so sorry for your loss. I am sending prayers of comfort to family and friends during this time of sadness. Gail was well liked by everyone that knew her. I will miss her.
---
Wilma Dalton
Indian Valley Va
October 04, 2019
I am so sorry for your loss.
---
Linda Jenkins Haynes
Nebo, NC
October 06, 2019
I am so sorry for your loss. I grew up with Gail in Oakley. She was always a mess. I hope her memories will help you get through day after day.
---
Allan Wingfield
Roanoke VA
October 11, 2019
I send my thoughts and condolences to Lee and all the family and friends of Gail! She loved life and always made you smile! My prayers also go out to all!!
---
Sign the Guest Book for Gail Garland Hooks