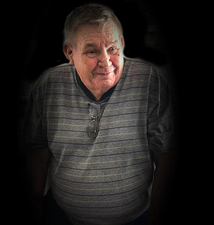 John M. Kirtner
October 07, 1942 - October 15, 2019
John M. Kirtner Jr. born October 7,1942, passed October 15, 2019. John was a member of Pleasant Valley Church of the Brethren. He served in the Army National Guard for 8 years. John is survived by his Wife of almost 54 years; Carolyn Lester Kirtner, two sons and their spouses; John and Dana Kirtner, Jamie and Tammy Kirtner, grandchildren; Deidre Kirtner and fiancé Lucas Graham, Austin Kirtner, Derek Bland, great-grandchildren; Alyssa Bland, Aubree Bland, Wyatt Bland, and Bryson Graham. He is also survived by two half-sisters; Jane Criner, Connie Lyons, brother-in-law; Ronnie and Joyce Lester, sister-in-law; Jackie and Neal Muir, and a very special cousin; Sue Bowman, along with four nephews and all the children he was blessed to watch grow up. Funeral services will be held on Friday, October 18, 2019 at Pleasant Valley Church of the Brethren at 1pm with Rev. Roy Turpin and Rev. Brian Turpin officiating. There will be a visitation on Friday, October 18, 2019 from 10am-12 noon also at Pleasant Valley Church of the Brethren. In lieu of flowers donations may be made to The American Heart Association or The Diabetic Foundation in his honor.
---
Guest book
Kim Woolwine
Blacksburg, VA
October 16, 2019
Words cannot express the sadness I feel, I am sorry to hear of your loss. Prayers for strength and healing in the days ahead.
---
Laura Johnson
Roanoke VA
October 16, 2019
My prayers are with you and the family during this new journey of your life. May God bless you with a peace of joy to rejoice of John going to be with the Lord, though your heart is also breaking of losing his presence. His soul will be with you always. John was a good man, that I did not know extremely well, but my memories of him teaching the youth Sunday school class will always be in my heart. He was a true man of God and a servant from the heart. A Mentor. His smile and laughter was contagious and full of joy.
---
J.W. Bishop
Christiansburg
October 18, 2019
Hey John, I'm real sorry to hear about your dad. I wanted to come to the viewing, but we had so much goin on here at work I couldnt leave. You an your family are in my thoughts an prayers. If u need anything just let me know
---
Wanda Martin
Christiansburg, VA
October 18, 2019
Carolyn, I'm so sorry to hear about John. God bless you and your family. My thoughts and prayers are with you.
---
Sign the Guest Book for John M. Kirtner