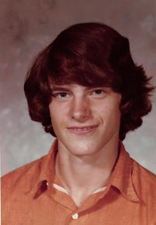 Timothy Brian Roberson
October 12, 1960 - December 11, 2019
Timmy Roberson, 59, of Floyd passed away Dec. 11, 2019. Survived by his parents; Harry and Mary Robeson, siblings; Galen Roberson, Karen Reed, Doug Roberson, Regina Cox (Jessie), Anita Kaye Conner (Mike), Tommy Roberson, along with several nieces and nephews. Funeral Services will be held on Friday December 13, 2019 at 1pm at Gardner Funeral Home with Rev. Mike Bowman, and Rev. Muarry Agee officiating. Interment will follow in Lee Cemetery Tuggles Gap. Family will receive friends one hour prior to service time. In lieu of flowers donations may be made to the American Cancer Society.
---
Guest book
Rita Smith
Willis vA
December 12, 2019
My Prayers are with you all at this sad time.I don't remember him but Karen and Galen and I were Classmates and Friends in School.So very sorry.Rita Smith
---
Robert Spence
Floyd VA
December 12, 2019
Sorry to here of Timothy's passing.
---
Sign the Guest Book for Timothy Brian Roberson