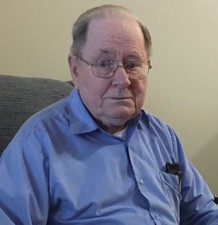 James Clifton Brammer
August 17, 1926 - January 07, 2020
Clifton Brammer, age 93, was born August 17, 1926, in Floyd, Virginia, to Bub and Ora Correll Brammer ("Granny Duck"). The oldest of six siblings, Clifton served in the US Navy during WWII, during which time his father passed away. Except for his Navy time and brief training in Chicago following the war, Clifton lived in Floyd until 2013, at which time he moved to Arbor Ridge of Kernersville (NC) to be closer to his daughter. God called him home on Tuesday, January 7, 2020, at Walnut Ridge Assisted Living. Clifton's greatest joy was teaching the Bible, which he did for over 50 years at the New Haven Baptist Church. He served as a deacon for those years as well as teaching Bible studies in his home, jail and prison ministries, and fill-in pulpit supply in the area. He was a great encouragement to many pastors and those in Christian service. He loved his family and had many close friends. He was predeceased by his parents; his wife, Eula Reed Brammer; and two brothers, Jack Brammer and Eddie Brammer. Clifton is survived by two daughters: Sharon Allred of Kernersville, NC; and Jo Anne Brammer of Weagamow Lake, Ontario, Canada. He was PaPa to two grandsons: Billy Allred (Priscilla) of Winfield, PA; and Jonathan Allred of Winston-Salem, NC; as well as four great-grandchildren, Gracelyne, Katherine, Aaron, and Nathan Allred of Winfield, PA. Two sisters survive: Betty Slusher (Bud) of Floyd; and Sue Young (Rev. Ronald) of Fincastle, VA; a brother, Billy Brammer of Floyd; as well as many nieces and nephews. Visitation will be at the Gardner Funeral Home in Floyd on Friday evening, January 10, 2020, from 6 to 8 p.m. The funeral will be held at the New Haven Baptist Church in Floyd on Saturday, January 11, 2020, at 11 a.m. with burial in the Jacksonville Cemetery in Floyd. The family is very grateful for the care provided at Arbor Ridge of Kernersville and Walnut Ridge Assisted Living as well as Hospice of the Piedmont.
---
Guest book
Geneva Housman
westmoreland tn
January 08, 2020
sorry to hear. praying for the family
---
Diana Moles
Floyd, VA
January 08, 2020
Clifton will definitely be missed. I missed seeing him. He was a good fella who cared about everyone and was not biased. Everyone loved him. I am happy he is not suffering anymore and with the Lord now.
---
Phyllis Quesenberry
Willis Va
January 08, 2020
Deepest sympathy to the family
---
Janice Belcher Sipe
Greensboro, NC
January 09, 2020
So sorry for the loss of this loving family member. Prayers of comfort for the family. Janice
---
Dorothy Anderson

January 09, 2020
---
Dorothy Anderson
Kernersville, N. C.
January 09, 2020
So sad to hear of Cliff's passing. He was a great friend and inspiration to me while he was at Arbor Ridge. My love and prayers are with you.
---
Jonathan Larsh
Cat Lake, ON, Canada
January 09, 2020
Deepest sympathies Jo Anne and family. May the Holy Spirit continue to give you the comfort that he so promises.
---
Cheryl A Larsh
Weagamow Lake
January 09, 2020
I am so sorry for your loss Joanne. I will be praying for you and your family. I wish I could be there for you but I know that God is with you and he is the best comforter. Love Cheryl
---
Calvin Shortt
Floyd Va 24091
January 11, 2020
Sorry to here about Clifton passing. We were out of state and could not attend. He was a great person. Calvin & Sandra Shortt
---
Brenda Pratt
Floyd, VA
January 11, 2020
Clifton drove our family to church for many years, he always made us feel like family. He often made me feel like one of his children (even fussing at me from time to time). Sharon and JoAnn were such good role models to the youth in the church and I will always be grateful to them.
---
Jo Brouwer
Johnston, IA
January 15, 2020
I am so sorry for your loss. I know that your PaPa and father will be greatly missed. He was a greatly loved man. I will be praying for your family. Take care love to all. Jo
---
David & Sandra Ratliff
Floyd, VA
March 17, 2020
---
Sign the Guest Book for James Clifton Brammer