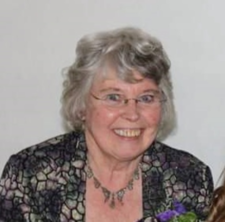 Stina Anna Viola Seidemann
July 04, 1937 - January 21, 2020
Stina Anna Viola Seidemann, 82, was born on July 4, 1937 in Gudhem, Västra Götaland, Sweden, to Anna and Emil Kjellman. She was the middle child of seven siblings and cherished God and family over all things. She met her husband, Peter Seidemann, in Sweden and they were married October 3, 1959. Together they immigrated to the United States in 1968. After a successful career, they settled in Floyd, Virginia in 1998. Stina passed away January 21, 2020. She is survived by her husband, Peter; her son, Roald Seidemann (Barbara Seidemann) and her daughter Carola Bousserghine (Chakib Bousserghine). She is Grandmother to Anna Reid (Christopher Reid), Andrew Seidemann (Katie Seidemann), Gail Seidemann, Matthew Seidemann (Hannah Seidemann), Kristina Bousserghine, and André Bousserghine and Great-Grandmother to Linnèa Seidemann and Caroline Reid. She is survived by three sisters who still reside in Sweden: Eivor (Kjell) Bertilsson, Inga Erixon, and Marita (Ahrle) Johansson. She is preceded in death by her parents, Emil and Anna Kjellman, brothers Sven Kjellman, Bertil Kjellman and sister Ella Sandstrom. Stina's unwavering faith and love for our Savior was an inspiration to many. She loved nature, gardening, and baking the most delicious Swedish desserts you could ever taste. She loved her family and her friends and was affiliated with Grace Baptist Church. A memorial service will be held in her honor at Grace Baptist on February 1, 2020 at 3 pm in celebration of her beautiful life. Stina was an amazing wife, mother, and friend who will be missed greatly by all those who knew and loved her.
---
Guest book
Carol Sutphin
Floyd, VA
January 24, 2020
Such a sweet lady. Sending prayers and hugs to Peter and the family.
---
Peter Seidemann
Floyd
January 24, 2020
Grace Baptist Church's address is: 241 Gallimore Ln NE Floyd, VA 24091 Thank you for all your thoughts and prayers.
---
Sign the Guest Book for Stina Anna Viola Seidemann