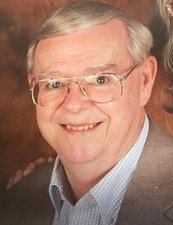 Raymond Reynarld Kirby
February 19, 1941 - January 27, 2020
Raymond Reynarld Kirby, 78, of Floyd passed from this life into the arms of Jesus on Monday, January 27, 2020. He was preceded in death by his parents, Ernest Wilson Kirby and Juanita Cregger Kirby. He is survived by his wife of 57 years, Adelene Craghead Kirby of Floyd; one son, Michael Steven Kirby of Floyd; two grandchildren, Elijah Steven Kirby, and Caroline Lilly Kirby of Blacksburg; his step-mother, Dorothy Farmer Kirby of Radford; one brother, Rodney Neal Kirby and wife Martha of Georgia; one sister-in-law, Frances Blevins of Vinton; one niece and five nephews, cousins, and other relatives; and two beloved dogs, Niki and Millie. Ray was born in Marion, VA, in 1941. He moved to Christiansburg in 1953, where he began his career with a newspaper route. He moved to Roanoke and attended William Fleming High School, Class of 1959. He worked for Kroger throughout high school and during college breaks. He attended Virginia Tech, participated in the corps of Cadets, and graduated in 1963. He worked for General Electric in Louisville, Kentucky; First National Exchange Bank in Roanoke; and Malone and Hyde Wholesale Grocery in Salem. In 1973, he became owner and manager of Ray's Sureway Supermarket in Floyd. After leaving the grocery business, he began working for Radford University as a part-time computer programmer and advanced to become Director of Information Technology and Chief Information Officer for the university, the position from which he retired from in 2006. In retirement Ray loved to listen to music and do woodworking. He built furniture, jewelry boxes, a dog house, and other beautiful and useful items. He was a gardener, a singer, a trumpet player, a business man, a grocer, a educator, and a leader. In his quiet, humble way, he showed kindness and respect to everyone he met. He loved God, his country, and his family. He was a dog lover who welcomed sixteen dogs into his life over the years. The family requests that those who wish to send memorial gifts please consider Veterans of Foreign Wars of the United States P.O. Box 8911, Topeka, KS 66608-9940, or any other veterans support groups. Graveside services will be private.
---
Guest book
Frances Blevins
Vinton, Va.
January 29, 2020
Butch, I am so sorry for the suffering you and Ray both endured during his illness, as well as your son and grandchildren. I donate monthly to VFW, but I will send a special donation. Please call me when you have everything over and have rested. I love you, sister.
---
Parker Stafford

January 30, 2020
My thoughts are with you at this difficult time. Ray was a remarkable person. I am glad that he made up such a formative period in my life. He will be sorely missed. I am so sorry for your loss.
---
Warren Self
Christiansburg, VA
January 31, 2020
For many years, and especially during the years I served as the Vice President for Academic Affairs, I had the privilege of working with Ray on numerous projects. In every respect, Ray was a consummate professional and a generous person with his time, knowledge, and talents. When I remember all the many wonderful people with whom I worked during my 36 year career at Radford University, Ray stands out as one of the most impressive and kindest people with whom I interacted and from whom I learned. His contributions to the development of the technology infrastructure at RU cannot be overestimated. I hope that the many positive and wonderful memories the family has of Ray will provide comfort at this difficult moment of parting. Sincerely, Warren Self
---
Sign the Guest Book for Raymond Reynarld Kirby