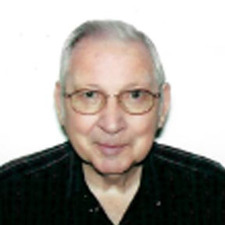 Andrew Nester
October 10, 1932 - February 01, 2020
Andrew Nester, Age 87, was born in 1932 in Floyd, Virginia to Cullen and Racheal Nester and passed away from a long illness on Feb. 1, 2020. He was the 2nd of 3 children born to Cullen an Racheal. During his Navy tour of service from 1950 to 1954, he married Janet Clower, a local Floyd woman in 1952. After he was honorably discharged from the navy he attended Virginia Tech, completed his electrical engineering degree in 1957 and went on to pursue his career at Western Electric and AT&T. Andy and Janet had three children, two girls and a boy throughout the course of the marriage, and settled in Mesquite, Texas. After Andy retired from AT&T in 1988 he and Janet traveled extensively together. Subsequently Janet became terminally ill and tragically passed in 1993. Andy remarried in 1996 to Mary Frances Wilson-Spangler. a Floyd native, and they both settled in Floyd, Virginia where they were both active members of the Beaver Creek Church of the Brethren. Andy found great satisfaction as the sound, video, and audio engineer at the church and ultimately facilitated the video and audio installation in several other local congregations. He is survived by his wife, Mary Nester; his younger brother, Rev. Curtis Nester; his children, Melinda McIlroy, Melanie Lynass, and Mark Nester; Mary's children, Eldon Spangler and Ann Reynolds; his grandchildren, Morganne, Logan, Maura, Nicole, Mason, Todd, Max, Sam, and Jake; along with six great-grandchildren. He is preceded in death by his older sister, Charlotte. A viewing will be held from 5-7 pm on Tuesday Feb 4th, 2020 and again from 1-2pm on Wednesday Feb 5th, 2020 in the sanctuary at Beaver Creek Church of the Brethren in Floyd, VA. Services for Andy will commence at 2pm on Wednesday Feb 5th, 2020 immediately after the final viewing. In lieu of Contributing flowers for the service please consider making a donation on behalf of Andy to the Floyd County Rescue Squad, The American Cancer Society, or to Beaver Creek Church of the brethren. Few men can walk as Christians like Andy did.
---
Guest book
Bob & Rosie Smith
Indian Valley va
February 03, 2020
Our thoughts and prayers to the Nester Family. Thank you for service to our country. He will be missed. may he rest peace.Amen Smith family.
---
richard nester
lake forest
February 04, 2020
On behalf of my father Robert, my brother Allen, and my wife Robbi, we send our heartfelt condolences. Dad asked me to say that you lost a husband and father and that the Falling Branch Nesters lost a leader. On my own behalf, I want to thank Andrew for all the encouragement he gave me as a harmonica player who got off to a late start as a musician. I was always glad to play him a tune and was always grateful that he was ready to listen. Thank you, Andy.
---
Darren Marshall
Willis
February 05, 2020
---
Curtis Nester
Moneta, VA
February 06, 2020
Oh, my brother, I love you and now you are with the Lord. (2 Corinthians 5:8)"We are confident, I say, and willing rather to be absent from the body, and to be present with the Lord."
---
Sign the Guest Book for Andrew Nester