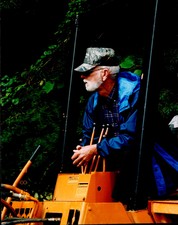 John Larry "Skip" Conner
November 18, 1949 - March 16, 2020
John Larry "Skip" Conner, 70 of Copper Hill, Va. passed away March 16, 2020. He was preceded in death by his father, William Edsel Conner. Skip was a wonderful, loving son and caregiver to his mother. He is survived by his mother Frances Conner of Copper Hill, Va. His sister Debbie Smith of Check. Special aunt Marie Carr of Salem. Visitation will be Thursday, March 19, 2020 at Gardner Funeral Home from 11am to 12pm. Followed with a graveside service at Restvale Cemetery at 12:30pm conducted by Donnie Wilson. In lieu of flowers, please make donation to the Floyd Co. Rescue Squad or the AA organization.
---
Guest book
Joe Yates
Roanoke,VA
March 17, 2020
Skip, you will be missed. You have helped so many. May you rest in the glory of God!
---
Peggy and John

March 17, 2020
Skip was a really good, kind, man. We will miss him. Deepest sympathy to his family,
---
Mary & Steve Hart
Moneta
March 17, 2020
So shocked! We lost a wonderful man!!
---
Thomas Bier
Daleville
March 17, 2020
I knew Skip through Cowboy Action Shooting. He will be remembered as a true gentleman cowboy.
---
Ed Groeber
Moneta, VA
March 17, 2020
You will be missed. I was glad to ride alongside you for a while at Bend of Trail. aka Duke City Marshal
---
Charlie Baker
Atlanta, GA
March 17, 2020
God put Skip in my life at a time when I really needed him. He was there for me just as I know he was there for countless others. Skip was an extraordinary example of what practicing humility looks like. I am grateful he was in my life and proud to have called him friend. He will be greatly missed.
---
Nancy Walton
Richmond, VA
March 17, 2020
Skip you were a true friend with a great heart. You will be truly missed by me and all of your other cowboy and cowgirl family
---
Beth Simpson Huddleston
Winchester, VA
March 17, 2020
I am so sorry for your loss. Skip was a kind and caring person, always giving of himself! The world is a better place because of his being here. Praying for you.
---
Ellen Valentine
Roanoke, VA
March 17, 2020
Skip, I feel fortunate to have known you for many years and will miss you. My sincere condolences for the Conner family.
---
Sandra DeHart Ratliff
Floyd, VA
March 17, 2020
My thoughts and prayers are with the family.
---
Stephen Rice
Check, VA.
March 18, 2020
I could not have had a better friend and will always remember the times we shared. I always admired that fierce independence and sense of humor. Your devotion to your mother will surely earn you bonus points in the hereafter. Now rest....you so earned it.
---
Shay Robertson
Middlebrook, VA
March 18, 2020
Jim & I send our sincere sympathies to the family of Skip. He was a wonderful member of our cowboy family and human being. I will miss his quiet humor, caring spirit and support of others in need. Jim & Shay Robertson
---
Izard Family
Copper Hill, VA
March 18, 2020
Skip has been a wonderful friend to our family. He took a great interest in the well being of our father and step-mother, checking in almost daily, especially late in his life, when he needed it most. We are most grateful that we had the opportunity to know Skip Conner as a friend. Rest in Peace, The Izards
---
George Spangler
Floyd
March 18, 2020
So sorry for your loss,May God be the family. G.C.& Rhonda Spangler
---
robert "Greywolf" Jensen
Mechanicsville,Va
March 18, 2020
Your work on earth is done. Rest in peace. I was a pleasure to have known you as shooting friend and a brother in the fellowship. I will see you at the big meeting in the sky. Greywolf
---
Philip
Christiansburg, Va
March 18, 2020
Skip, my ole friend, We were really lucky to have known you. Both Angie and I have been sad since we heard. I have no doubt there is a special place in heaven for you. Until we meet again on the other side, you will always have a place in our hearts. Godspeed my friend. AKA Doc Mcwane and Sidearm Sadie.
---
David Ramsey
check va
March 18, 2020
I just want to say how sad I am to hear this. Skip was a wonderful person loving and caring for everyone. I worked on his vehicles and he was so patient with me. He will be sorely missed. He was always taking care of his mom.Prayers for his family
---
Bobby & Linda Woods & Faye King
Copper Hill
March 18, 2020
Our sincere condolences to the family. Keeping you all in our thoughts and prayers.
---
Ray's Restaurant
Floyd
March 18, 2020
Ms. Frances Wishing you peace to bring comfort, courage to face the days ahead and living memories to forever hold on you heart.
---
Gary Long
Floyd
March 18, 2020
Skip....You touched so many lives. Certainly you touched mine, and I am among so many who are already missing you down here. Enjoy your Rewards, so richly deserved. It's good to be among Friends....
---
Sandra (Sam) Rorrer
Woolwine, VA
March 19, 2020
Skip was one of the most caring and genuine people I've ever known. He has given so much of himself in the service of others, including myself. He was a true inspiration and I will miss him. My condolences to his family and especially his Mom. The world was a better place because of you my friend and the world seems a little less bright without you. I know you are with Becky now and you both are probably laughing down on all us "pigeons"!
---
Doug and Arlene Bell
Copper hill
March 19, 2020
We're so sorry to hear about Skip. To me he will always be the young kid who worked so hard with Bill and Mr. Tiras to renovate our old house. Love the photo of Skip on the backhoe. I will remember the "Mayor of Check" as a good Man and as someone who was always ready to help when needed. Rest in peace.
---
John Carr
Brooklyn, NY
March 23, 2020
Shared the same namesake, and as we grew older age differences meant less, and we became friends too. Cousin Skip was a damn fine man, and last of the real Cowboys.
---
Miguel Ocampo Lopez
Copper Hill
March 26, 2020
---
Miguel Ocampo Lopez and Jerusalem Walker
Copper Hill
March 26, 2020
Skip was always a friend to us. He was always available to help us whenever we needed him. We will miss him, and grieve along with you during this difficult time. Our sincerest condolences to you and your family.
---
Sign the Guest Book for John Larry "Skip" Conner