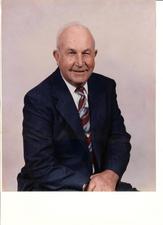 Arthur Lenwood Gearheart
July 16, 1921 - March 18, 2011
ARTHUR LENWOOD GEARHEART The gates of heaven swung open in the early morning hours of March 18, 2011, as Arthur Lenwood Gearheart entered his heavenly home. Born on July 16, 1921 he was preceded in death by his parents Curt and Pearl Gearheart, sister, Ethelene Vest, and brother Floyd Lewis Gearheart. He was a life- long resident of Floyd County. A veteran of World War II, Lenwood proudly served his country returning home to marry the love of his life. Lenwood is survived by his loving wife of 65 years, Grace D. Gearheart; two daughters, Judy Britt (Robert) and Kathy Boyd Blackwell (Kenneth), all of Floyd; three grandsons: Darin Britt (Carla), Tracy Britt and Logan Boyd (Ciera) ; one granddaughter, Lori Schantz (Dan), 2 step-grandsons and their wives; six great-grandchildren , five step great-grandchildren, a brother, Willie Wayne Gearheart of Pilot, sister, Oweeda Conner of Pulaski, brother-in-law, James Sweeney and several nieces and nephews . Lenwood was a member of the Head of the River Primitive Baptist Church. He retired from Adams Construction in 1984. He spent his retirement enjoying his family, his friends and his farm. A true Southern gentleman, Lenwood's gift of smile and sense of humor will be cherished by all who knew him. Arrangements are being handled by Gardner Funeral Home, Floyd. Friends may call after 1:00 p.m. where the family will receive friends from 4:00 to 6:00 p.m. on Saturday, March 19, at the funeral home. Services will be held at 2:00 p.m. on Sunday, March 20 at Gardner's Funeral Home Chapel with Elder Larry Hollandsworth and Elder Allen Terry officiating . Interment following at Jacksonville Cemetery, Floyd, with graveside rites by Floyd V.F.W. Post #7854 and American Legion # 127. Condolences may be made to the family at www.gardnerfuneralhomefloyd.com.
---
Guest book
Larry & Brenda Pickett
Lynchburg, Va.
March 19, 2011
Dear Grace and family, Our heart-felt sympathy for your loss, but we know that Lenwood is in a much better place. Eagerly awaiting his reunion with the family. Looking forward to seeing you at the funeral on Sunday. God Bless. Larry & Brenda
---
Curtis & Louise Nester
Moneta, VA
March 19, 2011
Kathy & Kenneth, Our thoughts and deepest sympathy go out to you and know that we care. May God's loving arms surround you and all your family in comfort. Curtis & Louise Nester
---
Doris Roberts
Blacksburg, VA
March 19, 2011
Grace, Judy, Kathy, So many happy times we(Bob too) had with Lenwood. I have many memories but one was he and his friend(can't remember his name) bidding against each other( I think on a cake) at a fund raising of some kind. He will be missed but also remembered with kind thoughts.
---
Joyce Britt
Georgetown, TX
March 19, 2011
Robert, Judy and Family: You are in my thoughts and prayers at this sad time. Lenwood will always be remembered for his jovial personality and his wonderful sense of humor as well as his kindness.
---
Dennis & Betty Semones
Christiansburg, Virginia
March 19, 2011
Judy and Robert: We were very saddened to learn or the death of Mr. Gearheart. Know that our thoughts and prayers will be with you. Know also that we are available to assist in any way if you should need us. We trust that your memories will be a blessing to you and your family. Give our regards to everyone.
---
Ed &Nancy Baldwin
Roanoke,Va.
March 19, 2011
Dear Grace and Family, We are so sorry for your loss.Was a pleasure to work with him at Adams. Nancy and I visited with him on several occasions while he was in nursing home,taking him homemade treats.He was a good man and will be missed greatly. Ed&Nancy Baldwin also Les Duncan (old friend)
---
Grace Kelley
Shawsville VA
March 20, 2011
To Grace, Kathy and family, I wanted you to know that our family is thinking of yours at this sad time. Love to you all.
---
Jay Rhodes
Roanoke, Va. VVCC
March 20, 2011
I want to tell the family want a honor and privledge it was to get to know and be with Mr. Gearheart on a daily basis. Arthur had a special place in my heart and I will always cherish the short time I got to know and be with him. I am so sorry for your loss and I apologize that I could not come and share this with the family in person. I had a prior engagement with my son this weekend and I am also working. I will miss seeing your wonderful family and you to have a place in my heart. You can be at peace knowing that the family should have no regrets in the great care and family support you gave Mr.Gearheart during this time. He is now with Jesus, and that is the greatest comfort one can have in this time of sorrow.
---
Ruby Asbury
Eden, NC
April 10, 2011
I'm sorry to hear of the death of your loved one.
---
Sign the Guest Book for Arthur Lenwood Gearheart