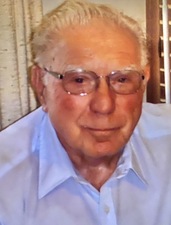 Kenneth Marden Sewell
November 15, 1928 - April 27, 2020
Kenneth Marden Sewell, of Floyd, passed away peacefully on Monday, April 27, 2020. He was preceded in death by his wife of 60 years, Louise H. Sewell; grandson, Jeremy Bruce Sewell; his parents, two brothers, six sisters-in-law, and eight brothers-in-law. He is survived by his four children: Roger (Vera) Sewell, Douglas (Karen) Sewell, Mary (Bery) Vest, and Tracy (Chris) Campany; grandchildren: Amber (John) Hanna, Gabriel Douglas (Jennifer) Sewell, Ellen (Ben) Chapman, Gwen Sewell (Steven Rapp, D.V.M.), and Kenneth Andrew Sewell; step-grandchildren: Laura Vest and Amie (Brian) Lafon; great-grandchildren: Caleb Gabriel Sewell, Kylie Alaina Sewell, and Hazel Louise Hanna; step-great-grandchildren: Caleb Brown, Abigail Lafon, Katelyn Lafon, and Jazmyn Vest; four sisters-in-law, one brother-in-law, and numerous nieces and nephews. Kenneth was born on November 15, 1928 in Blacksburg, Virginia and grew up in Salem, Virginia. He served in the Army Air Corps/Air Force from 1946 – 1949. He served in the Army Reserves from 1950 - 1952 and was called to active duty. He served in Korea and was attached to the 780th Field Artillery as a surveyor. After his military service, Kenneth tried business school, worked at Viscose in Roanoke until it closed, then he worked at the Purina Feed Store, and drove a cab on the side. He married Louise in 1953 and moved his family to Floyd in 1957 where he owned and operated the Farmers Exchange Mill until he joined the U.S. Postal Service in 1965. He worked as a mail carrier until he retired in 1990. Kenneth was a dedicated mail carrier and was determined to get the mail to his patrons no matter what the weather conditions were. After retirement, Kenneth enjoyed working on his farm. He raised Angus beef cattle and kept the cleanest hay fields in Floyd County. Thistles, chicory, nettles, and multiflora roses were his enemies. Kenneth worked hard and instilled a good work ethic in his children. Kenneth was also very jovial and full of life. He enjoyed talking to people and never met a stranger. The family of Kenneth Marden Sewell would like to thank the staff of Commonwealth Senior Living in Radford and the staff of Medi Home Health Hospice for the wonderful care they provided. A private graveside service will be held at the family cemetery. In lieu of flowers, please consider a donation to the Floyd County Fire Department P.O. Box 33 Floyd, VA 24091 or Floyd County Rescue Squad at P.O. Box 257 Floyd, VA 24091
---
Guest book
Debbie Weeks Reed
Floyd VA
April 29, 2020
My deepest sympathy to all the family. I have known you all from attending Falling Branch UMC and riding the bus with you when I was younger. My husband has also purchased bulls from your dad. Prayers for you all.
---
Roger Slusher
Floyd
April 29, 2020
Sorry to hear of your loss. Roger Slusher
---
Underwood
Floyd va
April 30, 2020
Was SO SORRY TO C THIS OBITUARY / HE WAS THE BEST MAIL CARRIER EVER / THE KINDESS /. POLITE OUR DEEPEST SYMPATHY TO HIS FAMILY !!! The Underwoods
---
Cappy Spangler
Floyd, VA
April 30, 2020
Thinking of you and your family. So sorry for your loss.My heart goes out to you. Praying for peace.
---
Dennis Whitlock
Floyd
April 30, 2020
Sorry for your loss. He delivered our mail for years and we would race to the road to get the mail. Mom recognized him when they were at English Meadows together. Today they are rejoicing together where there is no more pain or suffering. Love and thougbts to each of you
---
Joey Snead
Rocky Mount, Va
May 01, 2020
Sorry for your loss. Marden will be greatly missed. I remember all the times, when we would get together and do things around the farm. Please let me know if I can do anything for you all.
---
Stephanie Shelor
Dublin, VA
May 01, 2020
Jennifer I was sorry to read about Doug's grandfather. My condolences and sympathies to your family during this time! Prayer, Stephanie
---
Sign the Guest Book for Kenneth Marden Sewell