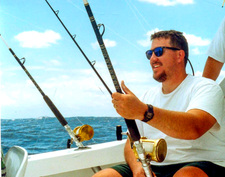 Patrick W. "Pappy" Earnest
October 25, 1969 - May 01, 2020
Patrick W. "Pappy" Earnest, 50, of Riner, VA. Passed away on Friday May 1, 2020. Pappy was an incredible chef, an awesome DJ, the funniest comedian, a thoughtful nurse, a wonderful friend, and an extraordinary father. He left his mark on everyone that got the pleasure to know him. Although his time wasn't long enough, he made the most out of the years he was given. He spent the years traveling, fishing, and enjoying life. The stories he shared are some that will live on forever! Eat some good food, tell your best joke, and listen to your favorite music in honor of this Rockstar. Patrick was preceded in death by his father Tommy L. Earnest Sr. He is survived by his three children, Issac Earnest, Leah Earnest, Megan Earnest; mother, Marie B. Earnest; brother, Tommy L. Earnest Jr. (Amanda) along with two nephews. "The road goes on forever and the party never ends" - Robert Earl Keen. A celebration of life will be held on Saturday July 18, 2020 at Gardner Funeral Home from 1pm-4pm. The family has requested that if you choose to be in attendance at the memorial that you wear a mask while in the facilities.
---
Guest book
Sherry Gochenour
Elkton a
May 11, 2020
Patrick was by far one of the best people I have ever had the pleasure of knowing, he has left such an imprint in my heart, not only was he my nurse, he was truly an amazing friend and I considered him part of my family, I will never forget you and will always love you, Rest easy big guy, you will forever be in my heart. Love Sherry
---
Cheryl Beavers
Rock WV
May 11, 2020
Much love to you all. Pappy was a joy from the time he was born. Always smiling. Loved him so. Blessed to have had him in my family.
---
Jason
Portland, ME
May 11, 2020
Wishing you peace to bring comfort and may the memories of Pappy bring out a smile from time to time and allow you to hold him close to your heart. We were all blessed to have Pappy in our lives.
---
Anne Taylor
Ocala,Fl
May 11, 2020
Tommy, my thoughts and prayers are with you and your family.
---
Frances Hodges
Christiansburg
May 11, 2020
To say I am so sorry seems so little to say. Please know I am thinking of you all and so hope you know you are loved.
---
Christy Lemons
Christiansburg VA
May 12, 2020
I am so very sorry for your loss. I worked with Patrick at Montgomery and always thought the world of him. Such a sweet soul. Many prayers to the family.
---
Jonathan McGrady
Carroll, VA
May 12, 2020
My condolences. Jonathan McGrady
---
Marcia Chew
Blacksburg
May 12, 2020
I am honored to say that I got to know Patrick Earnest as a nurse and a friend. He was a kind, gentle and hilarious guy. My heart breaks that this planet lost such a good man. Love and prayers to Marie, Tommy and his three children. Rest in peace Patrick.
---
Lacy Cole
Niceville, FL
May 12, 2020
Pat you will truly be missed. To Pat's family, Issac, Leah, Megan, Marie and Tommy I am sorry for your loss. I was lucky enough to have known Pat for several years. We spent a lot of time hunting, fishing, telling jokes, and just enjoying the outdoors. I have several stories about Pat that I will never forget and they still make me laugh to this day. Until we meet again my friend.
---
Kelly Gillenwater
Check, VA
May 12, 2020
Funny and caring. Touched a lot of lives.
---
Donna Livasy
Conway, SC
May 14, 2020
All of my sympathy to Patrick's family and friends, especially to Marie, Tommy and his children. I have great memories of working with him (and Marie and Tommy) during my days at MRH. What a super guy! I will keep you all in my prayers. Have faith that the ones we love are not lost to us forever but wait to live with us in peace for all eternity. (author unknown)
---
Teresa
Winnabow
May 19, 2020
To the family there are no words to console grief. Pappy will truly be missed by all who met and knew him. A true tragedy for him and family as well. From chef to nurse to fisherman to father and caregiver he did it all with a flair indescribeable always with a smile and positivity like that rarely seen. We will continue to live and love him and all that he gave to each of us throughout his short time here. He will continue to watch over us with his angels. With great love and sympathy.
---
Linda R Mullin
Princeton
July 19, 2020
Patrick was a very special person, who touched the lives of everyone he met. A smile and warm greeting, who never met a stranger. We will never forget you Pappy, you'll always have a place in our hearts. God Bless your family, may they find peace in knowing you are at rest.
---
Linda R Mullin
Princeton
July 20, 2020
Pappy was a special person, who never met a stranger. Family was the number one priority for each new day. He will always hold a place in my heart. Rest peacefully with the angels. My sincere sympathy goes out to Marie, his brother, and three children.
---
Sign the Guest Book for Patrick W. "Pappy" Earnest