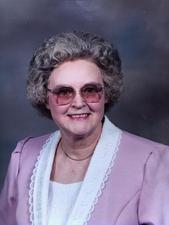 Essie Christine Dalton Burnette
March 04, 1922 - May 11, 2020
ESSIE CHRISTINE MORRISON DALTON BURNETTE Essie Christine Morrison Dalton Burnette, 98, of Floyd, VA, passed away May 11, 2020 at South Roanoke Nursing Home. She was born on March 4, 1922 in Patrick County, VA to the late John Abe and Bedie Mary Morrison. She graduated from Blue Ridge Mission School in 1939 as Valedictorian. She lived in the Town of Floyd and was loved by family and friends. She was a member of the Floyd Baptist Church where she was a dedicated Sunday school teacher and choir member. She was preceded in death by husbands, Ben E. Dalton of Floyd and Garnie W. Burnette of Meadows of Dan, four brothers: John G. Morrison, H. Clay Morrison, Roy Morrison, and Lawrence Morrison, five sisters: Margaret Burge, Josephine May, Irene Morrison, Addie Sue Talley and Alpha Pilson. Christine is survived by her daughter, Brenda Dalton Merlin of Roanoke, VA; 3 stepchildren: Elsie Stanley, Reeda Burnette and Richard Burnette. Arrangements by Gardner Funeral Home in Floyd. A private graveside service will be held at Jacksonville Cemetery in Floyd. Online condolences may be made at Gardnerfuneralhomefloyd.com or on Facebook @gardnerfuneralhomefloyd. The family is being served by Gardner Funeral Home.
---
Guest book
Carol (Meador) Vest

May 12, 2020
Sorry to hear about Christene. Mama worked with her for many years at Family Discount. Prayers for Brenda and family.
---
Tanya Martin
Salem, VA
May 12, 2020
Brenda, I'm so very sorry to hear of the passing of your mother. My deepest sympathies for your loss. Please take care of yourself and let us know if you need anything.
---
Cynthia Stovall
Stuart
May 12, 2020
---
carolyn hylton
Pilot
May 13, 2020
Brenda, my deepest sympathy for your loss. she always had a smile and would share good memories. take care, carolyn
---
Maurice and Connie Quesenberry
Floyd, VA
May 13, 2020
Our girls loved Christine as their Sunday School teacher. We have missed seeing her in church these years that she has not been able to attend. The last time we saw her was one Christmas a few years ago when the children went to her house caroling.
---
Deronda Thomas
Floyd, Va.
May 13, 2020
I have fond memories of Christine. She was dedicated to her Sunday School Class of girls for many years. Also, her beautiful face and voice in the choir each Sunday was special. I always admired her in many ways. May you find comfort in the days ahead of a life will lived for our Lord.
---
Betty Lemons
Greensboro, NC
May 13, 2020
Christine was a beautiful aunt! Sending love to Brenda.
---
Randy Burge
Atlanta, Georgia
May 13, 2020
I am so thankful for such a warm and loving aunt as Aunt Christine was to me. I will miss her greatly and remember her with love. Brenda, please know you are in my thoughts and prayers! Love, Randy Burge
---
Michael & Sarah Browning
Copper Hill, VA
May 18, 2020
Brenda- Please know you are in our thoughts and prayers. We have so many fond memories of your mom at church over the years. With sincere sympathy.
---
Margaret (Huff) Mende
Floyd va.
June 08, 2020
I didn't know about your mother's passing .you & I we went to school together. Brenda..I remember your mom driving the big longgg car! She looked so cool in it ,and proud!...she was friends with my mother-in-law (Prisicilla Dyson) at church...you & the family has my condolences.
---
Sign the Guest Book for Essie Christine Dalton Burnette