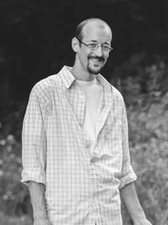 Bryndon "Brynny" Ferris Bason
July 08, 1983 - May 12, 2020
Bryndon Ferris Bason, "Brynny", was a lifelong resident of Floyd County VA. He died unexpectantly on May 12th 2020. Brynny was born on Travianna Farm on July 7th 1983 to parents Samuel A'Court Bason and Paula Klingensmith Bason. He was preceded in deathby his father A'Court Bason. Brynny is survived by his wife, Jessica Bason, his daughter, Aolani Bason, his mother, Paula Bason, his brother, Dorian Bason and his sister Triona Bason. Brynny was a devoted and loving husband and father. He was a spiritual man who loved the Bible and the I Ching with conviction. He was an avid mandolin and guitar player; who thrived on a broad spectrum of music. He amazed everyone, continuously, with his kindness, generosity and self-sacrifice for those around him. He puts into words and formulates his connection to his family when he says; "We are a family, our love is a bond that can't be broken, bound in the blood of our daughter, who is not only our offspring, but the physical/spiritual, achievement/representation given to us to ensure our connection in this lifetime and for eternity" 2 Corinthians 3:17, "Now the Lord is the Spirit; and where the Spirit of the Lord is, there is liberty." A celebration of life for family and friends will be on Saturday May 16, 2020 from 2- 5 PM at Gardner Funeral Home. Please be considerate of others during this time and honor the CDC recommendations regarding the Covid-19. A private graveside service will be held later. In lieu of flowers the family request donations be made to the family or the funeral home. Online condolences may be made at gardnerfuneralhomefloyd.com or on Facebook @gardnerfuneralhomefloyd. The family is being served by Gardner Funeral Home.
---
Guest book
Heather Womack
Floyd
May 14, 2020
To Jessica and Aoloni, we love you and are here for you no matter what you need we are here.
---
Conner Johnson
Roanoke va,
May 14, 2020
Rest easy friend. I am very lucky to have so many wonderful memories of time spent with you.
---
Judith Starchild
Roanoke VA
May 14, 2020
To all of Brynny's family, I am broken hearted to hear the sad news. Sending love and prayers for peace.
---
Judy Dickerson

May 15, 2020
Thinking of you Paula and all your family during this sad and difficult time. May your beautiful memories help you all with your loss and grief. Sending love and comfort, Judy
---
Persis VanWyk
Floyd
May 15, 2020
As a most of my life friend of the Bason family, I share their grief during this sad time, but know his essence will always be a part of us.
---
Persis VanWyk
Floyd
May 15, 2020
As a close friend of the Bason family for most my life, I share in the grief and loss of our"Ghee". I take comfort in the belief his kind spirit and essence will always be a part of our lives.
---
Lore Deighan
Floyd
May 15, 2020
Brynny and I were childhood friends and as the memories flood in, I am reminded of what a kind, caring person he was. I am so sorry for this loss - for his family that he loved so dearly, and for the community at large; we've lost such a kind soul.
---
Corinne & Bill Graefe
Floyd, VA
May 15, 2020
We're sending so much love & strength to you all - Paula, Dorian, Triona, Jessica, & Aolani.
---
---
Will Bason
Floyd
May 16, 2020
Some people are too kind hearted to live long in this world. May light and love illuminate your path in your journey into the next, Brynny. May angels of mercy come to comfort those grieving the loss of your physical presence. We miss you.
---
Phill & Kim
Floyd
May 16, 2020
Really love the quote on Spirit and liberty.Our hearts are with you Paula.
---
Russ Young
Floyd, VA
May 16, 2020
Jessica, I am so sorry to read this. You have my very deepest sympathy.
---
Chrys Bason
Floyd
May 17, 2020
When words are inadequate and tears flow unabated, may shattered hearts find solace in memories and love. Brynny took pain and challenges and turned them into wisdom, love, and caring. May we do the same for those he's left behind as we strive minute by minute to come to terms with this momentous loss.
---
Julian Nolen
Floyd
May 20, 2020
Jessica. I am so sorry to learn of your loss, you have my deepest sympathy and as always if can be of help to you I will do so.
---
Diane Giessler
Floyd
June 04, 2020
To all the Basons, My heart aches for you all. Life and death are so unpredictable and we certainly don't sign up for the difficult times. Lean on your friends for comfort and be open to God's healing. Zion has been praying for Brynny's family. I personally pray that you all find peace.
---
Sign the Guest Book for Bryndon "Brynny" Ferris Bason