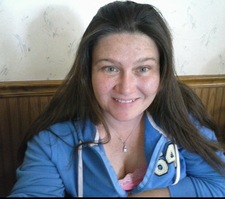 Sara Pauline Ashby
November 01, 1976 - May 15, 2020
Sara P Ashby 44, of Roanoke VA November 1st, 1976 - May 15th, 2020 Sara was a beautiful soul with a huge heart, Sara was called home by our Lord on, May 15th, 2020, Sara Was preceded by death by her parents Micheal Rae Ashby & Sheila Faye Hash of Roanoke VA. Sara survived by her loving Randy Sweeney of Floyd VA, her six children Matthew Ashby & (son Eli )of Maine, Levi Ashby & wife (Cathy Ashby )their two beautiful children Alaina & William of Maine, Jacob Ashby & Wife (Courtney Ashby) of Maine, Jordan Ashby & Wife ( Lauren Ashby) of North Carolina, Hannah Ashby Of Roanoke, VA, Houston Ashby Of Roanoke, VA, Brother Mark Ashby & (Leslie Hall) Of Roanoke, John Ashby & Wife (Amanda Ashby) of Roanoke, VA, Joseph Hash & wife (Samantha Hash) of Goodview, VA, very Special nieces and nephews Abigail, Nakota, Samuel, Benjamin, Noah, Charlee, Emma Ashby of Roanoke, VA, Maddy, Emily, Joseph hash of Goodview, VA, Luke Ashby & Courtney Moses of Roanoke, VA, and countless friends and family. she will always be our Nana. Amanda Ashby was the special sister she never had. They were each other's rock. They would get into more trouble together than anybody. Sara was an amazing mother, sister, aunt, and friend who will be missed greatly by all those who knew and loved her. Fly High 143 forever and always. She accomplished so much in 44 years, and she was one of the most honest people you would've met. She truly was a badass and brave woman and always loved with a heavy passion and always said exactly how it was good, bad, or ugly. She never stopped caring about the ones she loved. She was the definition of spunk and always had a smile on her face. Online condolences may be made at Gardnerfuneralhomefloyd.com or on Facebook @gardnerfuneralhomefloyd. The family is being served by Gardner Funeral Home.
---
Guest book
Michael
Maine
May 17, 2020
---
Crystal Overstreet
Bassett va
May 17, 2020
Prayers going out to the family fly highwith the angels going miss you cousin
---
Leslie Sweazea. ( Becky)

May 17, 2020
Oh My sweet cousin. You were always so lively even as a little girl even as you have grown. I will miss you. May your family be comforted thru the difficult times they face in every day.
---
Jonathan McGlumphy
Blacksburg, VA
May 18, 2020
I worked with Sara at Graham-White. She was as good soul. My sincere condolences to the family and friends at this time of loss.
---
Cole from GW
Salem
May 18, 2020
I loved working with Sara on projects. She was smart and energetic and fun. We have missed her here at GW and now are deeply saddened by this larger loss for her other friends and her family.
---
Angie Sowers
Floyd,Va
May 18, 2020
To Sara's Family & Randy, My love and prayer's go out to each of you during this time and as you move forward. Though I only knew Sara for a short while, she left an imprint; She was indeed a loving and compassionate person whose light will shine always. My prayer for each of you is that you always remember how much she loved you and that the Lord needed this beautiful (inside & out) soul more in His presence than this world we live in. Fly High Sara. Your journey here may be over but you are now on the greatest journey of all; Forever Your Friend, Angie Sowers
---
Kelly Overstreet
Bedford, Va
May 18, 2020
You all have my deepest condolences. The description of Sara is spot on. We had many laughs here at work. It's true only the good die young
---
Sign the Guest Book for Sara Pauline Ashby