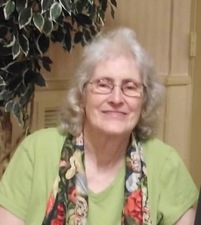 Bertha (Edith) Dials Diamond
September 04, 1933 - June 01, 2020
Bertha Diamond, 86, of Floyd formally of Pikeville, KY., passed away on Monday June 1, 2020. Bertha was a long time member of the United Church of God. She was a devoted mother and wife, her favorite read was her Bible. She enjoyed listening to bluegrass music, and would gladly dance in her younger years. She would play cards for hours when the family was together. She was always ready for traveling or hiking . she loved the outdoors. She is preceded in death by her husband, Bert Diamond after 46 years of marriage; sister, Evie Sartin; brothers, Sherman Dials, Arnold Jay Dials; along with parents, Johnnie Dials, and Addie Muncy Dials. Bertha is survived by her children, John Diamond (Donna), George Diamond (Carolyn), Addie Smith (Michael), David Diamond (Tammy), James Diamond (Janey), Ruth Ann Collins (Bobby), Abraham Diamond, Joseph Diamond (Kelly); brothers, Johnnie Ray Dials, Mosey Dials, James Dials, Glenn Dials; sisters, Liddie Hunter, Annie Mae Dials, 14 grandchildren, and 16 great-grandchildren. Funeral Services will be held at 3pm on Thursday June 4, 2020 at Gardner Funeral Home with Mr. Mike Arritt officiating. Interment will follow in Lee Cemetery Tuggles Gap. Family will receive friends from 6pm-8pm on Wednesday June 3, 2020 at Gardner Funeral home.
---
Guest book
Glenn@Joanna Dials
Inez ky
June 03, 2020
---
Mike & Rita Arritt
Lansing
June 04, 2020
Our love to all of the family. Prayers for comfort and strength now and always.
---
Anne R. Jenkins
Durham, NC
June 08, 2020
Wethank God that the KOG is coming to this earth and we will see all of our family I prayed for Bertha many times and even though she is at peace and rest she will live again without pain. Take care, Anne R. Jenkins
---
Margaret Mende
Floyd va.
June 08, 2020
I'm Betty Wade's sister.i remember your mom & dad getting their hair fixed at Betty's...good people! You have my condolences...
---
Sign the Guest Book for Bertha (Edith) Dials Diamond