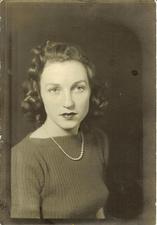 Lucy Shelor Tanner
August 07, 1921 - April 15, 2011
Lucy Shelor Tanner, 89, of Copper Hill, passed away on Friday, April 15, 2011. She was born on August 7, 1921 in Raleigh County, WV. Mrs. Tanner was preceded in death by her husband, Blaine Tanner, Sr. and a son, Gary Wayne Tanner. She was a member of the Presbyterian Church of Floyd. She loved flower arranging and being involved in the D.A.R. and Garden Club. She loved all of her grandchildren and great-grandchildren with a special affection for Tristan. She is survived by one sister, Anna Belle Salyers; one daughter, Linda Cole; one son and daughter-in-law, Butch and Katherine Tanner; six grandchildren, Shawn, Shane, Michelle, Rick, Sasha, and Gabriella, and eleven great-grandchildren. A memorial service will be conducted at 7 p.m. on Wednesday, April 20, 2011 at the Presbyterian Church of Floyd with Pastor Shawn Tanner and the Reverend David Taylor officiating. The family will receive friends on Wednesday from 5-7 p.m. at the Presbyterian Church of Floyd. In lieu of flowers, memorial contributions may be made to Floyd County Cares, 100 East Main Street, Room 108, Floyd, VA 24091. Condolences to the family be made at www.gardnerfuneralhomefloyd.com. Arrangements are being handled by Gardner Funeral Home, Floyd.
---
Guest book
Christy & Kevin Vest
Copper Hill, VA
April 19, 2011
Lindsey & Shawn, I am so sorry to hear about Mrs. Tanner. I know how much she meant to both of you and your children. Lindsey, I know what a special bond you had with Mrs. Tanner and the "great" care you took of her. She was very blessed to have you in her life. We love you all.
---
WAYNE THOMASON
APB
April 19, 2011
BUTCH SO SORRY ABOUT YOUR MOTHER THINKING OF YOU & YOUR FAMILY TAKE CARE WAYNE
---
Gabrielle Williams
Northern Virginia
April 29, 2011
RIP Grandmothers Lucy. We will never forget you. Love your grand-daughter, Gabrielle Williams
---
Sign the Guest Book for Lucy Shelor Tanner