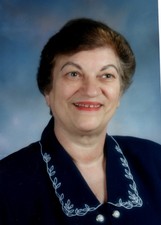 Rebecca Alma Weeks
April 27, 1943 - June 13, 2020
Rebecca Alma Weeks, 77, passed away June 13, 2020. Surviving is her mother Catherine M. Weeks, preceded in death by her father J. P. Weeks. Also surviving are her sisters; Anna Ellinger (Kerry), Jane Straus (Sam), Rachel Cagle (William), brother; Jim Weeks (Jack McMahon): nieces; Relana Durrette, Christie Bassett, Rachel Straus, Adrienne Ownby, Elise Durrette, Hannah Ownby, Noelle Bassett: nephews; Brian Ellinger, Phillip Goad, Nathan Straus, Landon Goad, Gavin Goad, Jordan Bassett, Derek Bassett, Jaks Ownby, Casey Ellinger, Jeremy Durrette. Also surviving are several special cousins and many friends and neighbors. Becky graduated from Floyd High School. Bridgewater College and received a master's degree from VA Tech. She taught 2 yeas in Roanoke Co., VA and 39 years in Prince George's Co., MD and was principal for 23 years receiving many awards. When she retired in 2004, she came back to Floyd to live and became active in Laurel Branch Church, serving as a trustee , and a member of the Pastoral Board. She loved working in the Floyd Co. Historical Society, serving as president for 12 years. Friends are welcome to sign the registry on Tuesday June 16th from 10 AM until close. A Celebration of Life will be held on Wednesday June 17th at 1:00 PM at Gardner Funeral Home Chapel with Angela Carr officiating. The family request and encourages those planning to attend to wear masks. If friends and neighbors would be more comfortable attending the graveside service at Laurel Branch Cemetery they are welcome, it will be following the funeral services. In lieu of flowers, those wishing to make donations, please give to the Laurel Branch Church, Floyd Co. Historical Society or American Cancer Society.
---
Guest book
Janet & David Straus
Henrico,Va
June 14, 2020
Our thoughts and prayers go out to you all for your loss. Becky will be greatly missed by all who knew her. Love, Janet & David
---
Dottie McGovern-Lawless
West End, NC
June 14, 2020
My prayers are with Becky's mom and family. Becky was always such a kind caring friend. It was truly my privilege to work with her. She will truly be missed. Rest in peace, dear friend.
---
Patty B. Weeks
Floyd, Va
June 15, 2020
Our family is so sorry for your loss. She was a very dear person and will be missed greatly. Patty B. Weeks and Family
---
Ronnie and Mary Bishop
Floyd, VA
June 15, 2020
Becky will be missed by friends, church family, and the Floyd Community. She was a real 'take charge' woman who helped us get things done. Mostly we'll remember her as a kind, caring individual who reached out to others in so many wonderful ways. Our sincere condolences to Catherine and family.
---
Sharon Scarselli
Gambrills, MD
June 15, 2020
Please accept my deepest sympathy for the loss of Becky. She was a wonderful friend and a remarkable principal. I had the pleasure of working under her as a teacher at Pointer Ridge Elementary. She not only took a genuine interest in her staff but also our families. Becky gave me many fond memories while working with her as well as visiting after her retirement. I admired her positivity and determination to fight her cancer battle without ever a complaint. Her true love for God, for her mother and family will be fond memories in my heart.
---
Loreeta N Carter
Bristol
June 15, 2020
Rebecca was one of my best friends all through high school. Her mother and sisters were like family to me also. I truly miss Rebecca and wish that we had more more time together. My prayers and sympathy go out to all her wonderful family.
---
Paul Kitchen
Floyd
June 16, 2020
Becky, You were a kind sole and a so giving of your personal gifts. I did not know you well, however, you took me into your trust at the Floyd County Historica Society. You always wore a smile no matter what. I will miss listening to your stories about Floyd County and all the interesting folks that make this place special. Go forth and explore the history at your next destination.
---
Pamela A. Rumburg
Check
June 16, 2020
Becky was a fine individual...so sorry to learn of her passing. Sympathy to all of her family.
---
Charles West
ASHEBORO
June 16, 2020
---
Strength, Guidance, Faith and Healing to the Weeks family. Our thoughts and prayers are with the family.
---
vesta harmanphiel
WILLOW STREET, PA
June 17, 2020
Becky was such a dear and accomplished person and certainly will be missed by many. My deepest condolences to her family to which she was devoted and cared deeply for.
---
Phyllis Wilson
Pilot Point, Texas
June 17, 2020
Becky and I were friends since grade school, attended high school together and decided to attend Bridgewater College together. We were college roommates all four years. I will truly miss her. She was a courageous lady and a compassionate person. My sympathies to the entire Weeks family and to the community in Floyd that will surely miss her smiling face. So sorry that it was not possible for me to attend her services.
---
Sign the Guest Book for Rebecca Alma Weeks