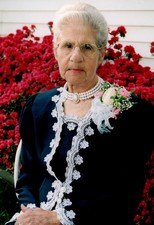 Katherine Hall Boyd
June 18, 1922 - July 26, 2020
Today Katherine Hall Boyd, 98, of Roanoke, VA, formerly of Meadows of Dan, VA, is Worshiping at the feet of her Lord and Savior, Jesus Christ. She went home to Heaven on July 26, 2020. Katherine loved the Lord and her life Radiated the joy of knowing Jesus. She faithfully attended church and read her bible through countless times and practiced what she read. She truly lived her life as a " Proverbs 31 Woman". She loved and cared for her family and her favorite activities were time spent with her family and serving others. Never Idle, she was no stranger to hard work, Retiring from J.P. Stevens, in Stuart, VA, she continued working by cultivating a large garden, making yo-yo quilts and tending her flower garden, Her fried apple pies were highly sought after and she loved to yard sale. Since she was raised during the Great Depression, she knew the value of a penny and never liked to throw anything away. Katherine was preceded in death by her beloved husband , Alvy Boyd; daughter, Alece O'Brien; son-in-law Ralph O"Brien; and grandson, David Lee O' Brien. Those left to cherish her memory include her son, Glenn Boyd (Phyllis) of Nokomis FL; daughter, Joyce Sweeney (Doug) of Goode, VA.; as well as five grandchildren and seven great-grandchildren. Katherine loved bright colors so we will be honoring her by wearing rainbow colors as we celebrate her life at a private graveside service in the Boyd Family Cemetery where her beloved son-in-law Doug Sweeney will be officiating.
---
Guest book
Shirley Phillips
Indian Valley, VA
July 27, 2020
Glen & Phyllis, I just read your Mom's obituary - what a beautiful lady. You all are in our thoughts and prayers. I know you will miss her but what better place could she be but with her Lord & Savior! With love and sympathy, Shirley & Doug Phillips
---
Beverly Belcher Woody
Martinsville, VA
July 27, 2020
I love you Aunt Katherine. I will always remember your kindness.
---
Betty Gardner
Floyd
July 27, 2020
Joyce So sorry for your loss. You all are in our thoughts and prayers.
---
Rick and Janet Via
Salem, VA
July 27, 2020
This beautiful picture of Mrs. Katerine. It is a perfect depiction of her. She truly did radiate with the presence of Jesus. She always had a smile and something sweet to say when we would meet her. Heaven has gained a mighty saint of God. Until we meet again very soon, Love, Pastor Rick and Janet
---
Suzy Sweeney Hill
Radford,VA
July 27, 2020
Sorry to hear about your Mom Joyce.It's so very hard to lose them.I'll be thinking about you Love,Suzy
---
Max and Darlene Patrick
Nokomis, FL
August 04, 2020
Our thoughts and prayers are with her family. Her obituary was a beautiful tribute to a beautiful lady.
---
Sign the Guest Book for Katherine Hall Boyd