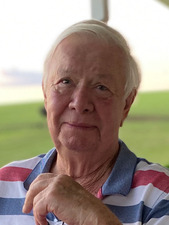 George Emmerson Tubbs
September 18, 1942 - July 27, 2020
George Emmerson Tubbs , age 77, of Floyd, VA, lost his battle with cancer on Monday, July 27, 2020. George retired to his dream home in Floyd, VA after being a self employed painting contractor for 40 years in Miami FL. Nothing made him happier than sitting on his front porch taking in the beautiful views and entertaining friends with his gourmet cooking. Left behind to remember him is his loving wife, of 28 years, Faye Tubbs; His daughter and son-inlaw Kathleen Tubbs McKenna and David McKenna of Annapolis MD; grandson Spencer McKenna of Arlington, VA; granddaughter Megan Watson of Upper Marlboro, MD; and great grandson Jaxon McKenna of Sterling, VA; and his "daughter-in-heart" Sara Tate of Maryville, TN. Also surviving are is sister Charlotte Jerrell of Carrollton, GA; his brother John Tubbs of Edmonton, KY. No services will be held at this time, a "Celebration Of Life" will be planned for a later date.
---
Guest book
Amber Lang
Floyd Va
July 28, 2020
My thoughts are with all of you and I just want you all to know that George meant a lot to me, he gave me so much life advise and was always willing to listen to my house and life problems and try to help me out. Whether it was questions about painting or changing the water filter in my house he was always there for me and I am so sorry for your loss. Love and Hugs
---
Pete & Jan Gyza
Littleton, CO
July 28, 2020
Dearest Faye, We are heartbroken. We will always cherish our times together especially George's smile and cooking! May you stay strong in this difficult time. We love you! Pete and Jan
---
Lisa Persinger
Floyd
July 29, 2020
Faye, I cannot begin to describe how I am feeling for you. I am very sorry. I am so glad I did get to meet George. He was such a caring man. You and the entire family are in my heart and my prayers. I miss seeing you everyday! I love you, Lisa (Queenie)
---
Denise Burrell

July 29, 2020
---
Matthew Rosenbaum
Floyd, VA
July 29, 2020
Faye, Thinking of you in this difficult time. George was always eager to make you laugh and give good life advice. He will greatly be missed! Matt Rosenbaum
---
Katherine Boyd

July 29, 2020
Dearest Faye, I'm so sorry for your loss. I'm praying for you daily during this difficult time. I was blessed to meet George and experience his wonderful cooking a few times and one of the biggest things I'll remember is how much his love for you showed.
---
April Cope
Dugspur, VA
July 29, 2020
My sincerest condolences go out to the family during this incredibly difficult time. You are all in our thoughts and prayers.
---
Chuck & Sherry Tubbs
North Industry, OH
July 30, 2020
To Faye & Family, We are sorry to hear of George,s passing. Was so good to see the both of you last year. Our Love And Prayers go out to you. Thanks,Kathleen for calling to let us know. Butch & Sherry Tubbs
---
India Eanes
Floyd, VA
July 30, 2020
Faye, My heart is breaking for you. I pray you are able to cling to all the wonderful memories you made together to get through this difficult time. Sending so much love to you and your family.
---
Bea Cleveland
Floyd, VA
July 31, 2020
Faye, Thinking of and praying for you. I will always remember George - he was kind, caring and most importantly a "giver". If there was anything he could do, it was done. I have a couple of his recipes, I will cherish always. You are in my prayers - hugs to you.
---
Michael Fleming
Altamonte Springs, Florida
August 01, 2020
---
Lorrie Harrison
Floyd, VA
August 03, 2020
Faye, My heart is sad hearing the news of George's passing. George was a sweet man that will be missed by many. The love he had for you showed on his heart and face. My thoughts & prayers are for the wonderful memories you have of George to warm your heart, as the good Lord heals it. Much love & prayers, Lorrie
---
Robin Conner
Copper Hill
August 05, 2020
He was a good man and will dearly be missed by all. We shall all cling to each other for strength and loving memories during these trying times. -Robin & Kenneth Conner
---
Ogden miller
kansas city
October 20, 2020
Faye, You and your family are in our thoughts and prayers. Love, Ogie and Cindy Miller
---
Sign the Guest Book for George Emmerson Tubbs