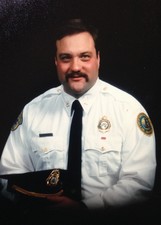 Michael Gordon Brown
July 10, 1957 - July 27, 2020
Michael Gordon Brown (July 10, 1957-July 27, 2020) was preceded in death by his parents Margaret Ann and J. Gordon Brown. Mike graduated from Blacksburg High school (1975) where he played football and was a stage manager. He became a dispatcher with the Blacksburg Police Department before he went to the fire training school in Virginia Beach. He had a wonderful long career as a fire fighter and became a Battalion One fire chief in Virginia Beach. Mike was an author, worldwide training specialist, and instructor in rope and confined space rescue. He was the alpha team leader for FEMA in charge of search and rescue at the Oklahoma City bombing, overnight lead on search and rescue at the World Trade Center September 11, 2001 and rescue worker at Hurricane Katrina. Mike retired to Floyd in 2012 where he and wife Lisa and dog Ax lived on the Little River. Survivors include his beloved wife and best friend, Lisa Kay Taucher, daughter Katie Elizabeth Brown and son Garrett Gordon Brown (North Carolina), sister Sheridan Brown and sister Karen DeBord of Smith Mountain Lake. Grandchildren, nephews, friends and extended family will always remember his words of loving caution "SAFETY FIRST." The family and a few close friends will be honoring Michael in a private memorial ceremony. Instead of flowers the family asks that you please consider contributing to a fire training academy scholarship fund that is being established in Michael's name. Checks may be made to: Fraternal Order of Virginia Beach Fire Chiefs, address is P.O. Box 56151, Virginia Beach, VA 23456-1151.
---
Guest book
Karen
Smith Mountain Lake, VA
July 29, 2020
My beloved brother, how I will miss your big hugs, your booming voice, and your weird sense of humor. I could always count on you. You are my hero. Please watch over all of us here and those you encounter in heaven! Sis
---
Sheridan Brown
Moneta, Va
July 29, 2020
Mike, you were supposed to go last. Mom and Dad are so thrilled to have you on their arms again. I pray you are at peace and feeling so healthy and giggling with happiness. I love you,
---
Michael Muhl
Dayton, OH
July 29, 2020
I was so privileged to have had the opportunity to know and learn from Mike. My very first teaching job for SpecRescue was with Mike In Toronto, Canada. He was a great big man with an even bigger personality and heart. His friendship and mentor ship over the years taught me so many valuable life lessons. I've consistently tried to model the way I teach after Mike's style. You were an original Mike Brown and you will be missed. Godspeed brother.
---
Sheryl Criner Bagg
Charleston, SC
July 29, 2020
I'm so terribly sorry for your loss. He was certainly a true hero and I know many will miss him terribly. Thank you sir and Rest In Peace.
---
Susie & Paul Eveland
Lewes, DE
July 29, 2020
Our prayers go out to Michael's family. Wishing you peace, love and God's guidance.
---
Diane Wilser
Raleigh NC
July 29, 2020
When our loved ones move on to a higher place, we that are left behind have a empty hole. Our solace comes in knowing they are happy and looking forward to us joining them. Our hearts and prayers are with you . Love: Diane and Gary Wilser
---
Charlie T Farlow
Onancock
July 30, 2020
Prayers to all the family, friends, brothers and sisters! Chief you will not be forgotten, may you RIP
---
Kim Asbury
Roanoke, VA
July 30, 2020
I didn't know Michael, but I just read his obituary and wanted to thank you for his service. His obituary shows what a good man he was and his service to our country. I'm sure you're proud of him. Know that God is holding him and has rewarded him for a life well lived and for serving his fellow men. God Bless!
---
John Anderson
VB, VA
July 30, 2020
Mike was a true professional in every sense. He was in charge of my rookie class and he imparted sage advice about the firefighting profession. He will be greatly missed.
---
Warren Whitley
Southport, NC
July 30, 2020
Mikie, you were one of kind. Funny, smart and a wealth of knowledge when it came to heavy and tactical rescue. Your legacy will live on. We had a lot of laughs, like pretending our dispatch office was bugged by CID. (It was pretend, right?) Stuffing you in your Z car to get you back to Va Beach after knee surgery... So many stories that I will alwats cherish. Sure will miss you, Big Daddy. Condolences to the family and friends you have left behind way too soon. - Radar
---
Dave (DAVID) Hicks Sr
Huddleston Virginia
July 30, 2020
Michael will be missed by so many Friends. He was a great guy and Fireman...I enjoyed working with him in the VBFD. Rest In Peace My Friends.
---
Dean DaSilva
Suffolk
July 31, 2020
My sincere condolences to the Brown family. I miss Mike dearly and I will forever remember him and our work together in the Va Beach Fire Dept
---
Jeff Saunders
College Station, TX
July 31, 2020
My sincere condolences. I taught the Task Force Leaders Course many times with Mike. I also have a story about him. TX-TF1 was doing humanitarian missions off of Interstate 10 in New Orleans. I was one of the TX-TF1 TFLs. I called Mike on the radio after an Army Combat Controller politely asked me WTF were we doing they had orders to evacuate everyone out of the same area. I told Mike we could land helicopters on the elevated causeway if it wasn't for the light poles. His reply was classic Mike. What are ya waiting for... I don't care how you get them down Jeff. Handle it! We did just that. Hooked the broken winch cable on an army truck around the light pole and backed up until it broke off. We pulled down a half dozen and cleared an area on I-10 the size of an aircraft carrier. We got everyone out of the Elysian Fields area and onto one of those helicopters. Elysian Fields are the old Greek idea of heaven.
---
John Audley
Brunswick ME
July 31, 2020
My mentor in ropes. My mentor in teaching. My mentor in how to share a good soul shaking belly laugh. It was years ago you taught me these things but still those lessons are fresh with me. Rest peacefully Brother.
---
Dave Downey
Davie, FL
August 02, 2020
Thanks for your leadership, mentor ship, and most importantly your friendship. Our paths have crossed for many years at disasters all over this nation and abroad. In later years, you and I were able to develop the new generation of TFL's. They broke the mold on you brother. One of a kind and I will miss you. Rest in peace and I for one will never forget you.
---
Rob Valentine
Virginia Beach
August 04, 2020
So sorry for your families loss. Mike was an inspiration to me as a young firefighter with the VBFD and I enjoyed working for him ate the Plaza house. He will be missed by all in this community. Peace and prayers to all of you.
---
Rob Valentine
Virginia Beach
August 07, 2020
So sorry for your families loss. Mike was an inspiration to me as a young firefighter with the VBFD and I enjoyed working for him ate the Plaza house. He will be missed by all in this community. Peace and prayers to all of you.
---
Jack Phillips
SMith Mountain Lake, VA
August 11, 2020
Mike was my brother-in-law, but more like a brother. He constantly challenged me, mentally and physically. He opened my eyes to the world of Rescue and introduced me to the greatest brotherhood I've ever know, that of the Firefighters. As a lowly engineer I could never be truly part of that brotherhood, but I at least got to hang out with them. What I found was that each of them revered Mike, for what he has accomplished and what he did to elevate technical rescue to the advanced state of today. I truly miss him.
---
scot beach
Virginia Beach
August 14, 2020
Dear family of Mike Brown, We are so sorry for your loss. Mike was a great guy, and he will be missed. Scot and Chandler Beach
---
Blackhawk Walters
Apple Valley, Utah
September 06, 2020
I will never forget the first day I meet Mike, he was in Rookie school but already had his EMT Certification so they stationed him at my station Company 10 so the others could catch up to Mike's certifications. They and the rest of us, never caught up to Mike, he was head and shoulders above the rest of us his whole career. Mike was as big and strong and as fearless and as intelligent as anyone who has ever been a Firefighter. He was a Legend from day one and will always remain a Legend to those of us who knew him. Thanks Mike for taking the time to teach me how to rappel, it has saved my butt a few times. Thank you for the loyal and dedicated service you preformed not only in Virginia but the many locations all over the country you responded too. Thank you for your warm smile and willingness to share all your knowledge and always treating us as true brothers and sisters. Your love of life and love for the Fire Service affected all of us who had the pleasure to work with you. Your shoes will never be filled and YOU WILL NEVER BE FORGOTTEN! Blackhawk Walters
---
Sign the Guest Book for Michael Gordon Brown