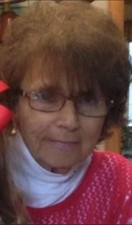 Shirley Ann Reed Kuhn Sears
September 18, 1942 - July 30, 2020
Shirley A. Reed Kuhn Sears, 77, of Floyd Passed away on July 30, 2020. She was a faithful attendee of Tuggles Gap Baptist Church. She was preceded in death by her parents, David and Pattie Reed. Shirley is survived by her sister, Helen Cockram (Freeman); children, Patricia Parsley (Guy Albright), Kim Williams (Brian); grandchildren, Derek Parsley, Chasity Hicks, Andrea Parsley, Maranda Hrivnak, Sydney McCall; six great-grandchildren, along with two nieces and a nephew Lisa Gayle, Nettie Pet, and David. A graveside service will be held on Sunday August 2, 2020 at Lee Cemetery Tuggles Gap at 3pm with Pastor Mike Bowman officiating.
---
Guest book
Bradley Querry
Charleston WV
August 01, 2020
Patricia and Kim, I am sorry to hear of your mothers passing. Our parents were good neighbors when we were growing up.. wonderful memories of times on Hughes Creek. Love and Prayers to you and your families.
---
Betty Joyce Hawkes
Kernersville, Nc
August 01, 2020
Many precious memories of times spent with Shirley. She was a lovely person and friend. My sincere sympathy to each member of her family and my prayer is that Heavenly Father will "wrap" his arms around you as you celebrate her life and remember her during this difficult time.
---
Wayne *&* Beverly
Page, West Virginia
August 02, 2020
So sorry for Your loss would loved to have been there for You All today but just know that I am thinking about You. All and if You need Us We are as close as a text or a call.I have some good memories of Your Mother and I'm so glad that even though it's good bye down here one day after awhile it can be hello again over there! Thinking about each of You and Love You All, 💜
---
Sign the Guest Book for Shirley Ann Reed Kuhn Sears