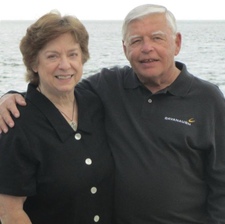 Ward Lowrance
September 24, 1939 - August 08, 2020
HE WAS A JOY TO HIS FAMILY AND LOVED BY ALL J. Ward Lowrance died peacefully at his home in Floyd, Virginia, on Saturday afternoon, August 8, 2020. His wife of 58 years, Judy, was with him. He was predeceased by his parents, Belvie Lowrance and Estelle Lowrance and two brothers, Mike and Dean Lowrance. Survivors besides his loving wife include two daughters, Andrea Lowrance (Keith Vernall) of Murphy, NC; Paige Sturts (Eric Spiecker) of Dorothy, NJ; five grandchildren -- Adam, Casey, Ryan, Cassie and Natalie; two sisters -- Sylvia Lowrance (Randy Garton) of Bethesda, MD, and Dawn Williams (Roland Williams) of Savannah, GA; one aunt, Mildred Lowrance of Leland, NC; and numerous cousins and friends. Born on September 24, 1939, in Mooresville, NC, Ward was 80 years old at the time of his death. He lived a full, happy life and loved his family and friends dearly. Raised as an Air Force "brat," he went to over 30 schools in ten years. His father was stationed in Hawaii when Pearl Harbor was bombed; Ward and his mother got under the dining room table when the officers' quarters where they lived were strafed by Japanese pilots. Ward and Judy met at Mercer University in Macon, Georgia, and were married right after their graduation. He attended graduate school at the University of Pennsylvania and then worked for 28 years in human resources for Burlington Industries. A second career, with Ward and Judy working as managers together for Holiday Retirement Corp., took them to many interesting places including Hawaii and England. After retirement, they moved to Floyd and enjoyed lots of wonderful trips traveling all over the U.S. and worldwide. Ward was a member of numerous different organizations during his lifetime -- too many to name individually -- but while living in Floyd, he was active in the Floyd County Historical Society and the Floyd Center for the Arts as well as being a member of Zion Lutheran Church. Ward was a skilled photographer; he loved the outdoors and was a Boy Scout leader (having been an Eagle Scout himself); he was a great cook and enjoyed good food; he was a prolific reader and a lover of maps, history, and most especially, his grandchildren. Because of Ward's personal wishes (as well as the Covid-19 virus), only a small private service for the immediate family will be held to honor Ward's life. Please gather your family together, cook a good meal, and raise a glass in memory of Ward.
---
Guest book
Rima Forrest
Floyd VA
August 10, 2020
Ward was a wonderful man and we will all miss him. He had a contagious smile and loved to cook! I will always remember fondly my time in France with Ward and Judy where they were house-sitting and pet-sitting, caring for three French hens.
---
Sue Quesinberry
Floyd
August 10, 2020
With much sorrow. Great fellow to know. Sue Quesinberry
---
John Mitchell Connie Mitchell
Floyd, VA
August 11, 2020
What a wonderful tribute to Ward and a picture that shows his happy, gentle personality as well as the love he held for Judy. We miss you, Ward. Our prayers for you, Judy, for your daughters and their families. Love and comfort for dealing with your loss.
---
Brian and June
East Dean East Sussex UK
August 12, 2020
Ward was a great person who will be truly missed. We are thankful for the wonderful memories we have of him. So glad to have known him.
---
Paula Cotterly
Denver, Colorado
August 13, 2020
Many of us were fortunate to have met and enjoyed happy days with Ward. He was a man of virtue and a fantastic photographer. Our loss can be lessened by providing support to his wife as he did for so many decades.
---
Suzy Bower
Floyd, Zion l
August 13, 2020
---
Phil Mullinax
Spring TX
August 17, 2020
I am saddened to learn of Ward's passing. I had the privilege of being his Sigma Nu Fraternity brother at Mercer University in Macon GA. We could always count on Ward's Straight A academic prowess to lift the GPA of our chapter each quarter. A happy memory stands out: In a chapter meeting one time, Ward added to a discussion of our social standing, exclaiming "Geez you guys, we NEVER have any PARTIES!" We immediately elected him Social Chairman for that year!!
---
Joe Mathis
Prattville Al
August 17, 2020
---
Billy and Linda Motley
Puerto Armuelles, Panama
August 18, 2020
We fondly remember Ward's quick smile and keen sense of humor, his love of fine food and drink, his faith and steady support of his church and his deep love for his family. Well done, good and faithful servant. We hold you all in prayer these tender, difficult days.
---
Karl Saliba, OD
Floyd,VA
August 25, 2020
So sorry for your lose. Sending our deepest condolences.
---
Ruth & Mark Arnold
Dorothy
August 30, 2020
Paige & Family Our deepest condolences, we know how difficult it is to loose our Fathers. Your Dad's obituary was absolutely beautiful and a testament to life well lived. We will gather together, cook a good meal, and raise a glass in memory of your Father, Ward. Much LOVE! Ruth & Mark
---
Alison Bryant
Clevedon, England
August 30, 2020
I am so sorry for your loss, I have such fond memories of you both which I will always treasure.
---
Sign the Guest Book for Ward Lowrance