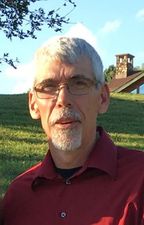 Thomas Wayne Holman
November 27, 1964 - August 08, 2020
Tommy was born in Dayton, Ohio on November 27, 1964. He lost his battle to cancer on August 8, 2020 but he was the overall winner in the war to be reunited with his Savior. Tommy was a member of Floyd Baptist Church. He joined Floyd County Volunteer Fire Department as a Junior member and was active for 35+ years. Tommy's kind spirit and willingness to serve touched many lives in our community. Tommy was preceded in death by his parents, Richard and Barbara Holman; sister, Teresa Hajek; and mother-in-law, Nancy Bailey. Left to always cherish his memories is his wife of 34 years, Leisa Holman; son, Brett Holman (Ashley), John and Aiden Hajek; daughter, Taylor Holman; two beautiful grandchildren, Briggs and Anistyn Holman. Siblings left to cherish his memory are Mark Holman, Debra Daymude (John), Tina Ferguson, Linda Morris (Sam); father-in-law, Jr. Allen (Peggy); brothers-in-law, Calvin Allen, Jeff Allen (Carolyn); along with numerous nieces, nephews, and friends. Funeral services will be held on Saturday August 15, 2020 at 11am at Gardner Funeral Home with Pastor Jeff Hudgins and Pastor Joe Womack officiating. Interment will follow in Restvale Cemetery. Friends may call after 4pm on Friday August 14, 2020 at Gardner Funeral Home where the family will be from 4pm-8pm. In lieu of flowers at Tommy's request donations can be mailed to the Floyd County Volunteer Fire Department, Station 3 at 1710 Kings Store Rd, Check, VA 24072.
---
Guest book
ORON CLEMMONS
SALEM
August 10, 2020
---
Chad Smith
Roanoke, VA
August 10, 2020
---
tony morisco
Check VA
August 10, 2020
I have know Tommy since he joined the Fire Department. It would be difficult to find a better person. Dedicated to his family and his community, always helpful. He fought the good fight and will be missed by all that knew him. Rest in Peace, May the Lord help and protect his family. "If we never forget, he will always be with us"
---
Back Creek Fire & Rescue
Roanoke, VA
August 11, 2020
Our thoughts and prayers are with the Family and the Fire Department!
---
Vickie & Gene Waldron
Salem VA
August 11, 2020
Tommy will be greatly missed. Worked with him for years at Advance Auto, you couldn't meet a nicer person. Prayers for the Family
---
Roy M Jennings
Roanoke VA
August 11, 2020
---
Bruce and Kathie DeWeese
Bent Mountain, VA
August 15, 2020
We always thought a lot about Tommy. He was such a super nice guy. We are so sorry to hear of his passing. Our thoughts and prayers are with his family. May God's love comfort and hold you close to Him and walk with you through this time. With peace and love, Bruce and Kathie DeWeese
---
charles phillipsand family

August 15, 2020
May God wrap his arms of peace and love around you and your family always praying
---
Ray Family
Check, VA
August 15, 2020
Please know you are in our thoughts, and in our hearts.
---
Sign the Guest Book for Thomas Wayne Holman