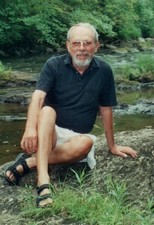 Guy David McDaniel
March 28, 1941 - August 12, 2020
Guy David McDaniel, 79, of Floyd, passed away at his home and went to be with the Lord on August 12th 2020. Born March 28th 1941 in Covington, he was the son of the late Guy and Hattie McDaniel. Preceded in death by his brothers Larry and John McDaniel and his late wife of 37 years Faye McDaniel. Left to cherish David's memories are daughter Kimberly McDaniel (John Belcher); son, Richard McDaniel; sisters Gilda Carden and Barbara John; brother Jimmy McDaniel; brother Carl McDaniel and his wife, Chong McDaniel; brother Steve McDaniel and his wife Kathy McDaniel; grandchildren Brandon and Sean McDaniel; Kayla Kimble and husband Tyler Kimble; Kaitlyn, Trey, and Justin Collins; Dakota McDaniel; Trent and Tracy Thibodeaux; great grandchildren Audrea, Brysen, and Lilianna McDaniel; Maddox and Grayson Kimble; numerous nieces, nephews, friends; a very special friend of 20 years Judy Lorell and friend Peggy Beran, who David called best banana pudding maker. David was a Vietnam era veteran of the U.S. Army, owned Elliston Food Mart for 20 years and was an avid golfer, traveling and teaching others his gift. David was a kind and gentle soul who was loved by many and was known for his witty sense of humor. David loved his family and friends and often reminisced about his childhood. A funeral service will be held at Gardner Funeral Home on Sunday August 16th, 2020 at 2 p.m with Hosea Blankenship and Carl McDaniel speaking along with Josh Blankenship playing music. Internment will follow at Den Hill Cemetery. The family will receive friends from 12 to 2 p.m., Sunday August 16th 2020 at Gardner Funeral Home, Floyd. If you choose to come to the services you wear a face mask inside of the facilities due to COVID-19.
---
Guest book
wanda dunlap
madison nc
August 13, 2020
My Deepest Sympathy for Kim and family ! Memories from Our younger years will remain in my heart as some of the best times and laughs !
---
Bobbi Suttles (Workman)
salem, VA
August 13, 2020
Mr.David was a great person, he was always very nice to me and my family. He will be greatly missed.
---
Suzanne Hillin
Thurmond, NC. 28683
August 14, 2020
May his memory be eternal and light everlasting shine upon him. May his enduring love and God's presence comfort all. Please accept my sincere condolences for granddaughter Kaitlyn and the family. It's a privilege to work with Kaitlyn. You are in our thoughts and prayers at Project Link.
---
Beverly and Mark Woody
Martinsville, VA
August 15, 2020
Dear Kimberly, I am so sorry for the loss of your Dad. Love and prayers. Beverly Belcher Woody
---
Tracy Quesenberry
Indian Valley
May 04, 2021
---
Sign the Guest Book for Guy David McDaniel