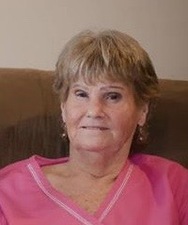 Betty J. Vaden
March 22, 1941 - September 10, 2020
Betty J Vaden (Bebby to her grand babies) 79 passed away on Thursday September 10,2020. She was preceased in death by her parents James C and Emma F Poff. Son Michael Ray Sowers and grandson Michael C Sowers ( Mikie). Two sisters Zetta Cromer and Josephine Hardison. Three brothers James(Jimmy) Mack and Ray Poff. She left to cherish her memories two daughters Susan Dickerson (Darrell) of Floyd. Sharon Giambrone(Todd) of Easley S.C. Sister Doris Satterfield of Greenville S.C. Daughter in law Debbie Sowers of Dublin. Seven grandchildren six great grandchildren and numerous nieces and nephews. Memorial service will be Saturday September 19,2020 @ 3:00pm officiated by Rev. Stanley Hawkins. Family will receive friends from 2:00-3:00.
---
Guest book
Betty Jo McPeak Massey
311 Agnew Rd.Greenville SC 29617
September 15, 2020
RIP Aunt Betty fly high on your Angel wings.
---
Clovis Draper
Dublin
September 15, 2020
May your loved one Rest In Peace and live the rest of her days with Jesus Christ.
---
Missy
Radford
September 15, 2020
I'm so sorry to hear about Ms Betty. She was such a wonderful lady. We loved her. She helped us take care of daddy. She did a winderful job our dad.
---
Melody
Dublin, Va.
September 16, 2020
Betty was such a blessing to our family during our mother's illness and loss of mom and then her continued care of our daddy for many years. She was like a member of our family and she was so missed when she was unable to continue working. Even then, she would visit dad and bring him sweets. My prayers go out to her family and friends dealing with the loss of this sweet soul. We will always cherish the time we spent with her.
---
Sign the Guest Book for Betty J. Vaden