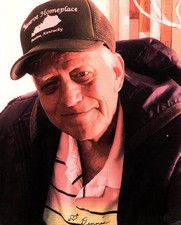 George Dennis Alderman
April 02, 1941 - September 25, 2020
George Dennis Alderman, Age 79, of Floyd, passed away on Friday September 25, 2020. Dennis worked at the Floyd Garment Factory for many years and was also part owner of The Game Room in Floyd. He was a diehard New York Yankees fan along with the Pittsburg Steelers, Virginia Tech Football, and Richard Petty. Dennis was preceded in death by his parents, Cury and Mary Alderman; three sisters, Delphina Keith, Frances Harris, and Vickie Alderman; along with one brother, Benny Winfred Alderman. He is survived by his sister, Phyllis Mann of East Bend, NC; brother, Gary Alderman (Carol) of Glendale, KY; along with several nieces, nephews, and lots of friends that he made at his favorite hangout at the Blue Ridge Restaurant and all over Floyd County. A graveside service will be held on Tuesday September 29, 2020 at 11AM at Beaver Creek Cemetery with Pastor Roy Turpin officiating. A visitation will be held on Sunday September 27,2020 at Gardner Funeral Home from 5PM – 7PM. If you choose to come to the services, please wear a face mask inside of the facilities due to COVID-19.
---
Guest book
Alyson, Bradley, Carly, Caitlyn, Lincoln
Stuart, VA
September 26, 2020
We will miss your sweet smile and your infectious laughter! We love you!
---
Joyce @Al Hessler
Floyd Va
September 26, 2020
---
Keith and Kristy Bowman
Floyd, Va
September 26, 2020
We were so sad to hear of Dennis's passing. He was a kind and humble man. We always enjoyed sitting and talking to him. He has a new body in heaven and no more pain. Prayers to his family. He will be missed.
---
Brian Griffith
Christiansburg Va 24073
September 26, 2020
I worked with Dennis back in 1997 at the factory. We always used to pick at him and get him riled up. He'd get mad and call us all names and walk off lol. I remember him and Earl going into Blue Ridge Restaurant all the time. Everyone loved this man. The people who worked with him loved him. He will certainly be missed. Rest In Peace, old friend. I know you and Earl are having the time of your lives now.
---
greg locke
meadows of dan, va
September 26, 2020
The Breakfast Club will never be the same, we are so glad to have known Dennis. May he rest in peace.
---
Misty
Floyd Va
September 26, 2020
My heart is so sadden today hearing the news that Denis has passed over. I know him and Earl will be happy to be reunited again. I'm sending my love to the entire family. Such a great loss. Floyd loves you Denis.
---
Nara Benson
Pilot
September 26, 2020
Sure have enjoyed knowing Dennis through the years. He really had the best stories about his shirt factory work. I will really miss his sweet presence...
---
Sharon Zeitz
Pilot,VA
September 26, 2020
Family: So sorry for your loss. We will surely miss seeing Dennis! I have Alderman kin folks on my mother's side, & Dennis & I would talk a little about that from time- to -time, wondering if we were related somehow...
---
Charles Gardner
Lakeland FL
September 27, 2020
Phyllis, sad to learn of Dennis's passing. I hope his last years were comfortable for him. My condolences.
---
George Spangler
Floyd
September 27, 2020
So sorry for your loss, were all going to miss him.
---
George Spangler
Floyd
September 27, 2020
So sorry for your loss, were all going to miss him.
---
Ben Harmon
Olive Hill, KY
September 27, 2020
I'm saddened to learn of the passing of Dennis, my friend from many years ago. I have known him most of my life, and I worked with him during my summer of 1966 job from college. I was fortunate to bump into him at the Blue Ridge one morning in August of 1999. Many prayers for his many friends and family members.
---
Tina Mabry
Willis
September 28, 2020
So sorry to hear bout Dennis passing I think of him often. He was good man heart of gold he will be missed with love tina
---
Kenneth & Shelia Bower
Floyd, VA
September 29, 2020
We have been so blessed to know him and he will be greatly missed. Prayers for the family.
---
Sign the Guest Book for George Dennis Alderman