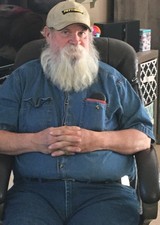 Ryan S. Eastridge
January 22, 1955 - October 06, 2020
Ryan S. Eastridge, 65, of Laurel Fork. Passed away on Tuesday October 6, 2020. He is survived by children, April Gallimore, Rhyanna Brown, Curtis Eastridge, Shauna Littreal; siblings, Sondra Harris, Larry Eastridge, Patti Thompson; along with two grandchildren. A graveside service will be held on Friday October 9, 2020 at 2PM at E.B. Webb Cemetery 201 Mat RD Meadows Of Dan, VA. 24120. There will be no visitation at the funeral home.
---
Guest book
Kenneth & Patsy Littreal
Little Creek (Dublin VA)
October 07, 2020
Our deepest sympathy to Ryan's family. He was a kind & respectful man. We will remember his baking & sharing cookies. He loved the Lord & we will see him again one day. We will miss you Ryan. With love.
---
Shauna littreal

October 07, 2020
My love will never leave you daddy, as you fly with the angels and dance In the sky. The tears I cry are made from rivers of love, that will never run dry. Till you one day welcome me on that distant shore and we can be together once more. I love you daddy. I know you are still by my side forevermore.💕
---
Deborah Carter
Floyd
October 09, 2020
April, Rhyanna, Curtis, and Shauna, I am so sorry you have lost your father. You and all of your family will be in my prayers. I pray that all of you can stay connected.
---
EVELYN COX
Roanoke, VA
October 09, 2020
Sorry for your lost. Love and prayers for the family. Love you all.
---
Sign the Guest Book for Ryan S. Eastridge