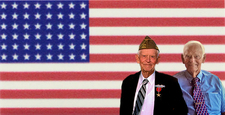 Arlie Reed Thompson
September 13, 1922 - October 22, 2020
Arlie Reed Thompson, 98 of Floyd, VA entered his eternal heavenly home on October 22, 2020, to join his wife of 76 years; Chlonetia Martin Thompson. Arlie is preceded in death by his parents; William Jeffery Thompson and Virgie Lawrence Thompson. Brothers: Sherman and wife; Iris, Bain, Harold Thompson; Sisters: Angie Cox, Eleanor Kildoff and Unice Thompson. He is survived by Brothers: Merlin (Livie) and Breman Thompson, Sons: Arlie Dale (Liz), R. J. (Korene), Danny Lane (Martha), Daughters: Brenda T. Weeks, Linda Diane Midkiff (Randal), seven grandchildren, fifteen great grandchildren and seven step grandchildren and great grandchildren, many nieces and nephews. Arlie's passion was his family gatherings, friends and neighbors, gardening/farming, and the Floyd County Tractor Fun Run. Arlie was an afficionado of life in the 40's & 50's, storytelling of his experiences in the ESSO station ownership. He spoke proudly of serving his Country in the United States Army while in Austria, France, Switzerland and in Germany as the war ended. He served from 1944 to 1946. Due to Covid 19, there will be no visitation, but a private family service on Saturday, October 24th at Salem Primative Baptist Church (Head of the River) with Interment at Restvale Cemetery. In Lieu of flowers, you may make a contribution to: Medical Charities of Floyd County/ Tractor Fun Run and send to Larry Bishop, 526 Floyd Highway, Floyd, Va. The family wishes to convey a special Thank You to Friendship Manor North Rehabilitation, Encompass Health, Kindred Hospice, Senior Home Care, special neighbors/friends and Mrs. Brenda Hale for the care and support provided.
---
Guest book
kitty austin
check
October 23, 2020
Danny, Martha, and rest of family you all are in my thoughts and prayers.
---
Ricky and Jennifer Baker
Floyd, VA
October 23, 2020
To all of the Thompson family, our prayers go out for you at this time. Mr. Thompson was certainly a special person. Find peace in knowing that he lived a full life and you were able to enjoy his wonderful personality and great stories for a long time. We know he will be missed. We are thinking of you all.
---
Robert Martin
Floyd
October 23, 2020
---
CHARLIE A HUNT
ROANOKE VA
October 23, 2020
DALE/RJ AND JEFF HE WILL BE MISSED BY ALL.QUR THOUGHTS AND PRAYERS ARE WITH ALL.
---
Vera Hall
Indian Valley,VA
October 23, 2020
Jeff,Tonya, Wyatt, Reid and family Our thoughts and prayers are with you all.
---
Frank vaughn
Floyd, VA
October 23, 2020
---
Gerry and Sandra Shank
Floyd, Va
October 23, 2020
We are so very sorry for the loss of your wonderful father. He was an example to many. Prayers for all of you. Love you,
---
George Spangler
Floyd
October 23, 2020
---
George Spangler
Floyd
October 23, 2020
---
Ray & Sharon Lovell
Pilot, Va
October 23, 2020
Sorry to hear of your loss.You all are in our prayers.God Bless you
---
Eric Kalamaja
Floyd, VA
October 24, 2020
Rest In Peace. Slow Salute. Prayers and solice to family and friends.
---
Lane & Pam McAlexander
Pilot Va
October 24, 2020
So sorry for your lost of a precious love one
---
Henry & Rosetta Howard
Boynton Beach, FL
October 25, 2020
Martha, Danny and family, We were sorry to hear of your loss. Keeping you all in our prayers.
---
Gerry and Sandra Shank
Floyd, Va
October 26, 2020
We are so very sorry for the loss of your wonderful father. He was an example to many. Prayers for all of you. Love you,
---
Mike&Shelia Flick
Wirtz Va.
October 31, 2020
So sorry to hear of Arlie passing Our thoughts and prayers for the Thompson family
---
Sign the Guest Book for Arlie Reed Thompson