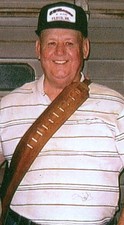 Clinton Sheldon Compton
October 27, 1939 - November 07, 2020
Clinton S Compton, 81, of Willis, VA went to be with his lord and savior Jesus Christ on Nov. 7, 2020, He was a member of Fairview Church of the Brethren, He ran Willis Auto Sales for over 50 years. Towards the end of his time here on earth Clinton had become ill and was taken care of by Michele, his primary care giver. The family is very thankful for her outstanding work and care she showed for the last several months to make sure that Clinton was comfortable as he struggled through his illness. Clinton was preceded in death by his wife, Catherine Compton; along with parents, Paul and Reva Compton. He is survived by two sons, Darryl Compton (Lisa), Roger Compton (Michele); one sister, Racene Keith (Wayne); three granddaughters, Cassie Brown (David), Maegan Roop (Josh), Rachel Compton (Chris Wade); great grandchildren, Caden, Keira, Naomi, Catherine, John Paul, Camden, and Ryan. The family would like to say a special thank you to Ewell (Chub) Hodges, Bruce Sweeney, Ben Harman, Sammy Shelor, Junior Sisk, Patrick Robertson, Barry Collins, Doug Bartlett, Alan Surface, Rex Keys, Susan Nunn, The Gregory family, and special friend, Mattie Quesenbery, along with many others for all the visits. A Graveside service will be held at Pleasant Hill Cemetery on Tuesday Nov. 10, 2020 at 11:30 AM with Pastor Jason Pratt and Pastor Jeff Dalton officiating. There will be no visitation at the Funeral Home. In lieu of flowers please go out and support one of the local music venues in Floyd, such as Wildwood General Store and Floyd Country Store where he loved to play, in honor and in memory of Clinton. .
---
Guest book
Nancy Bradley
Rocky Mount, VA 24151
November 08, 2020
So sorry for the loss of your father and special community and family member.
---
Patsy East
Floyd, Va
November 08, 2020
My deepest sympathy goes out to the family of Clinton. May God give you comfort at this very difficult time. I really thought a lot of Clinton. He was a special man. He will be missed.
---
Dulin & Margaret Turman
Willis, Va
November 08, 2020
So very sorry for your loss. May God bless you in your time of loss. Love and prayers!
---
Gary/Sandra Dillon
Willis, Va
November 09, 2020
Clinton was a good friend and neighbor. He will be missed greatly.
---
Charles Slusher
Lexington, KY
November 09, 2020
So sorry for your loss. Clinton was a good man. He will be missed.
---
Ben Harmon
Olive Hill, KY
November 09, 2020
I'm so sorry to learn of Clinton's passing. I remember him from when I grew up on Howell Creek at what is now Ambrosia Farm. Many prayers for his family and many friends.
---
Sonya St. Jacques
Bon Air, Virginia
November 09, 2020
All my love and respect to the Comptons. He will sing and play forever in Glory.
---
Steve & Larkin Conley
Galax
November 10, 2020
It's hard to believe that eighteen years had gone by since our family moved to Floyd and we came to know the Compton family. Racene, Darryl, and Roger...please know that we love you and will miss Clinton. We have many memories of good times and the many acts of kindness which Clinton and your entire family showed us. What a blessing to have been your neighbors. Steve, Larkin, Cole, & Clif f
---
Freda Scott
Ferrum, VA
November 11, 2020
My deepest sympathy. Love and prayers.
---
Becky Thompson
Floyd, Va.
November 17, 2020
Prayers for comfort. Heaven is gathering up some great musicians. Love Becky Thompson
---
Sign the Guest Book for Clinton Sheldon Compton