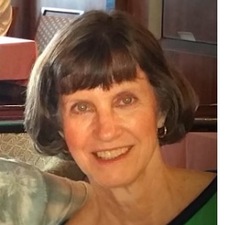 Sue Williams Back
April 26, 1953 - November 06, 2020
Sue Williams Back of Floyd, VA, passed away on November 6, 2020 after a nearly five-year battle with multiple myeloma. She was a devoted daughter, wife, and mother who poured her love, care, and compassion into others through each of life's seasons. Sue was born on April 26, 1953 in Covington, VA to Luther Alva "Al" and Gerene (Lee) Williams. She grew up in Virginia, West Virginia, and Ohio and received her degree in Accounting from Miami University in 1975. She was mid-season in a successful career as an accounting manager when she met, then married her husband Tom in 1981. Sue continued working until 1986, then took a year-long sabbatical with Tom to explore the United States via motorhome. Their trip ended a few months early when Sue gave birth to their eldest son, Greg, in 1987. Daughter Abigail joined the family in 1989, with son Jeff following in 1995. Becoming a full-time homemaker fulfilled Sue's next life dream, raising their three children in the family home she created and maintained in West Chester, OH. She was an active volunteer, serving on the local PTA and helping with sports and scouting activities. She selflessly sacrificed time and energy to her growing children's lives, while simultaneously making time to care for her aging parents. After Tom retired, they moved to Floyd in 2014 to a home they built on family land, fulfilling Sue's third life goal. Here, Sue continued her hobby of gardening and began volunteering at Angels in the Attic. She had hoped to spend more time there as a volunteer in her final years. During her lifetime, Sue achieved her three big goals: to become a successful businesswoman, raise a family, and live on a farm in the country. Although it was prematurely cut short, Sue's was a life well lived. Sue was preceded in death by her parents. She is survived by her husband Tom; brother and sister-in-law Ron and Carol Williams; sons Greg (Emily) and Jeff; daughter Abigail DeVries (Jarrod); and numerous in-laws, nieces and nephews. The family will hold a memorial service at a later date.
---
Guest book
Janet Florian
Cleveland OH
November 10, 2020
Tom, Greg, Abigail, Jeffrey, Emily and Jerrod: So sorry on the loss of a beautiful, wife, mom and mom-in-law. I will always remember Sue as happy, humble, talented, selfless, loving and welcoming. Whenever we talked she spoke highly and lovingly of her entire family. We will SO miss her.
---
Ravi Gupta

November 10, 2020
I am sorry for your loss Tom. Our thoughts are with you and your family during these difficult times. Still treasure fond remembrances from yester years. Sue was kind hearted and gentle. My family extends to you our deepest sympathies.
---
Frank Schuler
Bethel, Ohio
November 11, 2020
Tom, I am so sorry to hear this! My condolences to you and the rest of the family!
---
Don and Michelle Back

November 11, 2020
Tom and Family, We are so sorry for your loss. Back many years ago when we lived in the same neighborhood (two Back families In the same neighborhood is always scary) we enjoyed our conversations with you and Sue. Great memories. You are in our thoughts and prayers.
---
Nancy and Harry Turner
West Chester,OH
November 14, 2020
Dear Tom, Greg, Jeff and Abigail, We were so sorry to hear of Sue's passing and her physical problems these past five years. We are glad she had some time in Virginia before she got sick. She was so looking forward to living there and bring closer to family. She will be missed. Sue was such a big help to me in our Cub Scout group She was always so helpful and had a ready laugh to lighten things up. She was so talented in all areas of her life. Our condolences to you all. Love, Nancy and Harry Turner
---
Sign the Guest Book for Sue Williams Back