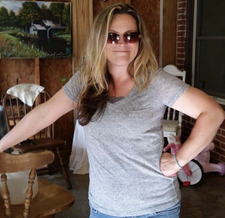 Kimberly Dawn Diamond
March 19, 1979 - December 23, 2020
Kimberly Dawn Diamond, 41, of Floyd, Passed away on Wednesday December 23, 2020. Kimberly was born in Louisa, Kentucky on March 19, 1979. She is preceded in death by her grandparents, Bert and Edith Diamond, along with Milton Ison, and Magaline McIntosh. Kimberly is survived by her children, Bethany Wagoner (Nick), Hannah Wagoner, Madison Snare, Kaleb Fox; fiance, Thomas Fox; parents, John and Donna Diamond; siblings, John Diamond (Vicky), Sheila Metzler (David); Nieces and Nephews, John, Hunter, & Kaitlyn Diamond, Kylee and Jillian Metzler; aunts and uncles, George Diamond (Carolyn), David Diamond (Tammy), Joe Diamond (Kelly), Addie Smith (Michael), Ruth Collins (Bobby), Abraham Diamond, James Diamond (Janey), Tony Ison (Diane), Steve Ison, Rita Howard (Arnold), Joe Little, Ryan Little, along with several cousins. A Graveside service will be held on Monday December 28, 2020 at 11am at Lee Cemetery Tuggles Gap with Pastor Dan Agee officiating. Online condolences may be made at Gardnerfuneralhomefloyd.com or on Facebook @Gardnerfuneralhomefloyd. The family is being served by Gardner Funeral Home.
---
Guest book
Darrell Hollandsworth

December 24, 2020
So very sorry for your loss.
---
Allen & Lisa Nester
FLOYD
December 24, 2020
So very sorry for your loss. Prayers for you and the entire family.
---
Kimberly Fox
FLOYD
December 25, 2020
We love you all. Kim was like my own daughter and she will be greatly missed.
---
Joanne Snare LaCourse
Gainesville, Georgia
December 25, 2020
I am so sorry for your loss. I will always remember Kim as a beautiful, kind and loving person, and a good mother. Joanne (Maddy's great-aunt, Derrell Snare's sister)
---
Monica Quesenberry
Indian Valley
December 25, 2020
My thoughts and prayers are with Kim's children and family. I will never forget the memories I have of Kim or the fun times we shared while growing up. I know shes at peace now.
---
Timothy and Michelle Radford
Floyd
December 27, 2020
So sorry for your loss. Kim was a light in this world. She will be missed.
---
Deborah Carter
Floyd
December 27, 2020
I am so sorry for your loss of Kim. She was such a sweet person when I had her in class. Prayers for your family.
---
Rita Hicks
Floyd va
December 28, 2020
May God be with you all during this time. Kim will be watching over all of you. Love and prayers sent to the family during this rough time. Love always.
---
Sarah Collins
Stuart, va
December 29, 2020
I love and miss you so much already. I'll see you again though and until then I'll be doing all I can to make you proud of me.
---
Sign the Guest Book for Kimberly Dawn Diamond