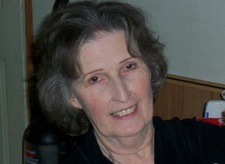 Ronnie Jeanne McDaniel
September 10, 1940 - January 05, 2021
Ronnie Jeanne McDaniel, 80, of Floyd, went to be with the Lord on January 5, 2021 at her home surrounded by family. She retired from VA Tech after 30 years of services. After retirement she enjoyed gardening and spoiling her grandchildren and great grandchildren.  Ronnie was preceded in death by her parents, Wallace and Mae Lester; sisters, Mazie Cook (Fred), Cleo Gardner (Clifton); brothers, Edgel Lester (Grace), Eugene Lester. She is survived by her husband of 59 years, Henry McDaniel; three daughters, Allison Hogan, Leslie Newman (Chris), Tracy Grubbs (Terry); three grandchildren, Lauren Furrow, Jacob Newman, Zachary Newman; three great-grandchildren, Olivia Newman, Austin Furrow, Jackson Furrow; along with several special nieces and nephews. A special thank you to her caregivers, Mrs. Marjorie Lucas, Ms. Cheryl Walters, Ms. Rio McPeak, Mrs. Amy Stevens, Nina Waweru and Amedisys Hospice; along with special friends, Mr. Donnie Alderman and Mr. Curtis Nolen. Funeral services will be held on Thursday January 7, 2021 at 2pm at Gardner Funeral Home with Pastor Roy Turpin officiating. Interment will follow in Jacksonville Cemetery. The family will receive friends one hour prior to service time.
---
Guest book
Nellie Ruth Pruitt Hamilton
Prestonsburg, KY
January 05, 2021
My grandmother, Ruth Patterson, was her double first cousin. I have so many memories of her during family get togethers. She was so funny, nice, and down to earth type person. Prayers for all of her family.
---
G.C. & Rhonda Spangler
Floyd
January 06, 2021
So sorry for your loss,may God be with you and your family
---
Linda and Russell Newman
4lnewman@gmail.com
January 06, 2021
Henry, Leslie, Allison, Tracey and family, so sorry for your loss. I know it's been a difficult few years for y'all and R J. May she rest in peace. God be with y'all.
---
Patty Weeks
Floyd, Va
January 06, 2021
Ronnie Jean was a great lady -- she will be missed Patty Weeks
---
Pamela Slaughter
Willis, VA
January 07, 2021
Thinking of you all keeping you in my prayers many fond memories of her come flooding through my mind. R.J. was an amazing lady!
---
Neal Compton
Floyd, VA
January 09, 2021
Dear Allison and family, Sorry for the loss of your mother. We are thinking of you. With sympathy, Neal Compton and family
---
THOMAS N KING JR
Charleston SC
February 23, 2021
Dear ones, So sorry to hear about Ronnie Jean. She was a very talented lady! My family and I have many wonderful memories spent with all of you in C'burg, Floyd, Rural Retreat, etc. Great times! May Holy Spirit of Comfort embrace your hearts during this time. Sincerely, Nat King on behalf of Tom, Elaine, Susan, and Lillian
---
Sign the Guest Book for Ronnie Jeanne McDaniel