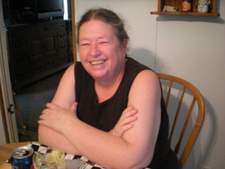 Angela Sue Joyner
November 23, 1957 - January 18, 2021
Angela Sue Joyner went to meet our Lord on January 18 2021, Sue was born on November 23 1957. She is preceded in death by her parents Dorthory (Polly) and James (Jack) Tinnel. Sue is survived by her husband Jack Joyner and her son Brian Joyner, and stepdaughter Michelle Leigh, her sisters Nancy Emrick , Lisa Dickerson, Donna Tinnel, Her brothers Jeff Tinnel Steven Tinnel and Russell Tinnel also by several special sister in laws and nieces and nephew. aunts and uncles and cousins She will always be remembered for her kindness to everyone including animals. Sue truly loved her cats. A memorial service will be held at a later date
---
Guest book
Donna Tinnel
salem, va
January 25, 2021
Rest in peace sister, enjoy being reunited with loved ones and pets who are there waiting for you.
---
Suzanne Caldwell

January 25, 2021
Donna, Deepest sympathies for your family's loss. Thinking and praying for all. Suzanne
---
Michelle Powell
Pearisburg
January 26, 2021
Rest n peace Angie. May they have lots of cats in heaven.
---
Nancy Tinnel Emrick
Woodville, MA
January 26, 2021
I'll miss that laugh of yours and know that you're in so much less pain now. Say hi to Mom for me! Love you!
---
Eve and Larry Wirt

January 29, 2021
Sympathy to all the family and peace to you as you enter heaven and see those waiting for you there.
---
Sign the Guest Book for Angela Sue Joyner