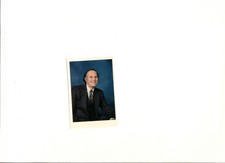 Kenneth Wayne Perry
July 29, 1940 - July 15, 2011
Kenneth Wayne Perry, 70, of Floyd, passed away on Friday, July 15, 2011. He was preceded in death by his parents, Christopher and Mildred Hall Perry. Kenneth was the owner of DEE-K Fabrics, and he loved farming and fishing. He is survived by his wife, Doris Perry; three children and spouses, Steven and Sunshine Perry, Douglas and Linda Perry, and Lori and Tanner Gray; three stepsons and spouse, Michael and Melanie Hall, William Hall, and Scott Blankenship; six grandchildren, Melinda Perry, Sarah Perry, Elizabeth Thompson, Jason Perry, Holden Perry, and Orin Gray; two brothers, Clyde (Pete) Perry and Christopher Perry; three special aunts and uncle, Frances Call, Jo Moricle, and Belle and Dudley Thompson. Funeral services will be conducted at 11 a.m. on Monday, July 18, 2011 at Zion Lutheran Church with the Reverend Linda Motley officiating. Interment will follow at the Boyd-Belcher Cemetery. Friends may call on Sunday after 1 p.m. at Gardner Funeral Home where the family will be from 6 p.m. until 8 p.m. Condolences to the family may be made at www.gardnerfuneralhomefloyd.com. Arrangements are being handled by Gardner Funeral Home, Floyd.
---
Guest book
Harvey & Sharon Songer
Catawba VA.
July 17, 2011
Chris & Betty------we were so sorry to hear of your brother's passing. Please know that we are praying for you and your Family during this difficult time. We missed you this morning in church.
---
Terry Jenks
Loves Park IL
July 17, 2011
Doris, I'am so sorry for yoou loss and my thoughts and prayers are with you and your family during this time. God Bless Terry Jenks
---
Brent Ellis
Mocksville NC
July 17, 2011
Doris, Steve and Family I'm very sorry for your loss. I really thought a lot of Ken and he will be missed Please let me know if I may help you in any way Sincerely Brent
---
Martha Niedjela
Stuart
July 18, 2011
We were sorry to hear of Kenneths passing..Joe my husband worked with him a number of years at United Elastic and I came to know him at Dr. Kornetts office..Our thoughts and prayers are with you at this time. Martha and Joe Niedjela
---
Terri Childers

July 18, 2011
Dear Steve and Family, We were saddened to hear of Ken's passing. He has been a loyal customer for many years. Please know that it has been an honor and a privlege knowing Ken these past years. We offer our heartfelt prayers at this time. Carlos, Terri, and Jennifer Comez North America, LTD.
---
Terry Gore (Unifi)
Greensboro, NC
July 19, 2011
Dear Doris, I was so very, very sad to hear of Ken's passing. Diane called me & told me. Ken was one of my favorite customers. I will miss him dearly! Take care!
---
Lori Haden
Stuart
July 21, 2011
Thoughts & prayers are with you during this difficult time. May the Lord be with, bless, & comfort you as only he can.
---
Sign the Guest Book for Kenneth Wayne Perry