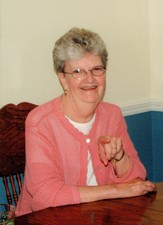 Venda Gayle Boothe
October 24, 1938 - March 14, 2021
Venda Gayle Boothe, 82, went to be with the Lord on March 14, 2021. She was a loving wife, mother, sister, aunt, grandmother, and great-grandmother. Venda Is survived by her loving husband of 66 years, Bob Boothe; daughter, Vickey Smith; and sister, Audrey Cahill. She retired from Elizabeth Arden after 28 years. She will be greatly missed. A Funeral will be held on Friday March 19, 2021 at 2PM at Gardner Funeral Home with Pastor Allen Lenker officiating. Interment will follow at Pleasant Valley Cemetery. The family will receive friends one hour prior to service. If you choose to come to the services, please wear a face mask inside of the facilities due to COVID-19.
---
Guest book
Gerry And Sandra Shank
Floyd va
March 19, 2021
We are so sorry for your loss. We are asking God to uplift you at this difficult time.
---
Eli Blevins
Salem, Va
March 19, 2021
To Venda, This is "Lil Eli," Junior and Clara's grandson. The little kid who asked you to push him on the swing at Possum Holler and your fingernail accidentally got broken. And you didnt let me live it down for about 15 years. May you rest in peace and my love and condolences to your husband and family. Sincerely, "Lil" Eli Blevins
---
Clara Blevins
Salem, Va
March 19, 2021
Venda, I will miss you dearly and Eli & I loved you and Bob so much. Those years and special times at the Campground will remain fondly in my heart. I love you and your family, and glad you are peace and not in pain. Rest In Peace, Dear Friend. Love, Clara
---
Sign the Guest Book for Venda Gayle Boothe