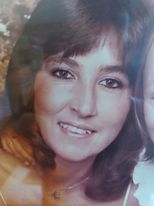 Charlotte Huff "Denise" Rye
September 11, 1958 - March 29, 2021
Charlotte Huff "Denise" Rye, 62, of Pilot and formally of Fairlawn, passed away on Monday March 29, 2021. She was preceded in death by her parents, Joseph V. Jr and Betty Jean Armbrister Huff; along with four brothers, Dennis Huff, Kurt Huff, Joey Huff, and Barry Huff. She is survived by her husband of 33 years; John Rye; two children, Rocky Huff (Amanda), and Jessica Branch-Barrow; stepson, William Rye; five grandchildren, Allen Huff, Aaric Huff, Addyson Huff, Hannah Gravely, Jacob Barrow; one great grandchild; Collin Southerland; one brother, Mike Huff; one sister, Diane Huff. Funeral Services will be held on Thursday April 1, 2021 at 3PM at Gardner Funeral Home. The family will receive friends one hour prior to service time.
---
Guest book
Deborah Carbaugh
Eggleston Va
March 31, 2021
So sorry to hear about Denise. Remember her when she lived beside my Mom many years ago. John, Rocky and Jessica please know my thoughts and prayers are with you at this time.
---
Wayne Armbrister
Max Meadows, VA
March 31, 2021
Sorry for the loss you are in our prayers
---
Sandy Dowdy

March 31, 2021
Denise was a sweetheart, she will be missed. Prayers and condolences to the family.
---
Dana Smith
Dublin Va
March 31, 2021
So sorry to hear of Denise's passing. My heartfelt prayers for the family.
---
So sad to hear of Denises passing. Prayers for the family and friends
---
Diane Bishop
Fairlawn
April 01, 2021
So sorry for your loss. Let all the good memories flood your thoughts of Denise. She was loved here on earth and will forever be pain free and with our Lord. Prayers for all of the family and friends.
---
Sign the Guest Book for Charlotte Huff "Denise" Rye