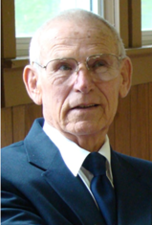 James Edward Vest
November 05, 1942 - April 01, 2021
James Edward Vest, 78, of Check, Virginia, passed away on April 1st, 2021. He was preceded in death by his parents, Warren Pierce Vest and Elizabeth (Blondine) Martin Vest, along with three siblings, Willie Jean Vest, Lois Vest Baker, and Kevin Warren Vest. He is survived by his wife, Glenna Conner Vest, a son and daughter-in-law, Rodney and Sandra Vest, a daughter and son-in-law, Rhonda and Freddie Conner, of Check; sisters and brothers-in-law, Linda and Gerald Smith, of Pilot, Sandra and Eddie Songer, of Salem, and Kathy and Dale Lawrence, of Pilot; grandchildren, Andrew Vest (and wife, Jaclyn), Jacob Conner, and Jonah Conner; numerous special aunts and uncles; and numerous nieces and nephews. Graveside services will be held at 11 a.m. on Monday, April 5, 2021, at Wilson Cemetery, with Pastor Josh Blankenship officiating. Arrangements by Gardner Funeral Home in Floyd, VA. In lieu of flowers, donations may be made to the Floyd County Volunteer Fire Department - Station 3, in his memory.
---
Guest book
SandraSonger
Salem,VA
April 02, 2021
My brother was my buddy and I will mis him so much. I know he is in Heaven with God and his family.
---
Jerry Carr
Check
April 04, 2021
So sorry for your loss. I thought a lot of him . He was a great friend and neighbor .Always liked to kid around with me . He will be missed by several .
---
Sandra Poff
Floyd VA
April 05, 2021
So Sorry for the loss our thoughts and prayers are with you all may God's grace be with you all Sandra
---
James Armentrout
Floyd
April 05, 2021
To the Vest Family: You and your family are in our hearts and prayers. Our condolences on the passing of James. We're thinking of you in your hour of grief. May you always feel your father's presence in your heart. May he Rest In Peace. The staff and volunteers of Christiansburg Rescue.
---
Sign the Guest Book for James Edward Vest