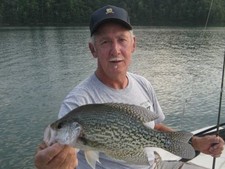 Ben Douglas Williams
January 05, 1948 - April 07, 2021
Ben Douglas Williams, 73, of Copper Hill, VA – faithful husband, father, grandfather, father-in-law, brother, brother-in-law, friend, and fisherman - died Wednesday, April 7, 2021 at home with his family. He was born January 5, 1948 in Dickenson County, VA, the son of the late Doris and June Williams. He graduated from Ervinton High School. Following high school, he enlisted in the Navy and served on the aircraft carrier USS Franklin D. Roosevelt. After his honorable discharge from the Navy, Ben and his late wife Elizabeth moved to Salem, and shortly thereafter made their home in the Copper Hill area of Floyd County where they raised their family and a large garden. Ben was also a passionate fisherman, often spending his free time on Philpott Lake in pursuit of walleyes. He was recognized as an Expert Angler and Master Angler by the Virginia Department of Wildlife Resources and was recognized several times as the "Angler of the Month" in the Commonwealth. Always generous with his time he coached his sons in Dixie Youth and American Legion baseball, and he was a past president of the Check Ruritan Club. In retirement Ben was an avid woodworker, specializing in making tables and bowls of unique Appalachian hardwoods that he collected. Survivors are sons, Jason Williams and wife Emily of Troutville, VA and Benson Williams and wife Nina of Copper Hill, VA; grandchildren, Sophie Williams, Isaac Williams, Brooke Williams, and Nathan Williams; sisters Reba Teters of Clinchco, VA; Elizabeth Rasnick and husband Dean of Clinchco, VA, and Lois Edwards of Radford, VA; brothers, Charlie Williams and wife JoAnn of Copper Hill, VA; and James Williams and wife DeAnna of Palmyra, PA. In addition to his parents, he was preceded in death by his wife Elizabeth and sister Jean Greer. The family would like to offer special thanks to Good Samaritan Hospice of the New River Valley and their wonderful staff, including Angie Sutphin and Shannon Roop for their compassionate care over the past several weeks. A service will be held at his home and will be limited to family and close friends. In lieu of flowers, contributions may be made to Copper Hill Church of the Brethren Food Bank or Good Samaritan Hospice.
---
Guest book
Angie Sutphin
Floyd VA
April 10, 2021
I will miss this man very much. I enjoyed our talks about Elizabeth and all the knowledge he gave me on raising tomatoes. I am planting my "Benny Tomato" seeds today. Can't wait for my wonderful tomato sandwiches this summer. My thoughts and prayers are with the family and if I could do anything please let me know. I will also forever treasure my handmade bench that he made. It's a treasure for sure.
---
Pam Patton Mullins
Lebanon, Virginia
April 10, 2021
I am sending love and prayers to Benny's family .....I know you are suffering a great loss with the passing of Benny.... Benny was one of the finest young men that I knew growing up together in Clinchco.... we were friends from the time we started Primary thru High School at Ervinton HS. Benny loved his family and adored his grandchildren..... I will miss Benny and was so blessed to have been called a dear special friend. RIP dear Friend until we see each other again one day.
---
Danny L Evans
Narrows, VA
April 11, 2021
We just learned of your loss of Ben. So sorry to learn this. Please give Danny a call. He doesn't have your current phone number but your should have his. If not please email. Our prayers are with you all.
---
Shirley & Doug Philllips
Indian Valley, VA
April 12, 2021
Jason, Benson, and families, I was thinking of Ben on Friday and wondering how he was doing. I know he was not well when your Mom passed away but we sure enjoyed talking with him when we came to the house to bring food. He and Elizabeth were wonderful friends and were such good parents to you boys. We had a lot of good times at ballgames and other places. I know you will miss him so much. All of you are in our thoughts and prayers. Love, Shirley & Doug and David
---
Todd & Vicky Via
Check
April 15, 2021
we are very sorry for your loss, you will be in our prayers, God Bless
---
Sign the Guest Book for Ben Douglas Williams