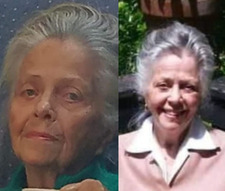 Brame Proffit Spessard
February 08, 1918 - April 12, 2021
On April 12th Brame Proffit Spessard of Floyd and Roanoke passed to the next life at the age of 103. She graduated from Mary Baldwin College in 1939. She was an English teacher at Andrew Lewis High School and a housewife. At 71 she took on a third career as housemother for the Kappa Sigma fraternity at W&L, the fraternity of her most beloved and cherished husband Robert Spessard. She received the Women's Honorary Life Membersip Award for service from the Second Presbyterian of Roanoke where she was a long time member. She is survived by her three children Robert Jr., Eliza and John as well as her grandchildren Bo, Kelley, Jonathan and Anna and her sister Nancy Proffit Shelor. On her 95th birthday, Brame's friends hosted a party for her and paid off a speeding ticket she had refused to pay the week before. Brame had rare charisma and an indomitable spirit. Her unique style, her beautiful voice and her dazzling smile will be dearly missed. She embodied Southern grace and charm. There will be a grave side service at 2:00 on Saturday April 17th at the Jacksonville cemetery in Floyd Virginia. In lieu of flowers, please donate to your favorite charity.
---
Guest book
Sarah Yeatts Gormley
Fredericksburg, VA
April 13, 2021
Aunt Brame was a lovely lady full of grace and southern charm. She will be missed.My family has wonderful memories of staying with Aunt Brame.
---
Ginger and Hunter Yeatts
Shreveport, LA
April 13, 2021
Aunt Brame was a gracious hostess. We send our heartfelt love to the family. Ginger and Hunter
---
Carlotta Alleyne
Roanoke, VA
April 14, 2021
My thoughts and prayers are with you and your family. Carlotta Alleyne
---
Greene & Dodi Lawson
Roanoke
April 15, 2021
Brame will be missed. Her beautiful smile and her history of the Lawson's & Proffit's is sadly gone. God rest her soul.
---
Cal and Ann Spessard
Huntington Station, NY
April 16, 2021
We are very sorry for your loss. Please know that we are thinking of you at this difficult time. Sorry that we have lived so far away all these years. It would have been nice to have seen Brame again as well as the rest of the family. Please accept our condolences.
---
Virginia Lee Harvey
California
April 16, 2021
I am thankful to have shared memories over the years with Brame. Every time I would come into town I would look forward to our getting together. What a special person! Brame will be very much missed.
---
Michael Spessard
Salem, VA 24153
April 16, 2021
Rob, Eliza and John, my deepest sympathy in the loss of your mom and Nancy in the loss of your sister. I will keep you all in my thoughts and prayers and may God grant you peace and comfort. Mike Spessard
---
Sally Gravely
Roanoke, VA
April 17, 2021
I will never forget your stories and many kindnesses you shared. I am fortunate to have known you in this lifetime. The pandemic caused me to keep my distance but you have always been close in my thoughts.
---
Brenda Troutt
floydva
April 17, 2021
I was so sad to hear of Brames passing. The closeness we shared for many years was a privilege. Brame was one of my favorites! She was indeed adorned in southern style and grace! Though the years had taken a toll on her memory our last conversation was still sweet. May God give you peace and bless you all with special memories of this beautiful lady. Love and prayers Brenda Troutt
---
frankie turner
floyd va
April 17, 2021
may God bring peace and comfort to you all at this sad time.
---
Hunter Yeatts
Shreveport La
April 17, 2021
Was always a pleasure to stay in Floyd as their guest ad a child. She was such a great host. I still treasure the times I visited floyd and stayed at her house on the mountain.
---
Will Townes
Oxford, MS
April 19, 2021
My condolences to the family. Mrs. Spessard will always be remembered fondly by the W&L Kappa Sigma fraternity. She was a positive influence on us all. She was a charming and thoughtful woman.
---
Ann Sizer Moir
Newport News, Va
April 22, 2021
Bob and Liza, Wanted to extend my condolences on a long and Wonderful life. Just wanted you to know we are thinking of you Fondly Ann
---
Annette Marie Harlow-Covey
Roanoke ,Va.
May 20, 2022
Dearest Rob and family, I am just finding out about Aunt Braim. I am sorry l didn't know. Please accept my deepest condolences. She was a Fine Lady. I So Admired her and Uncle Bob. They were such Good Influences in my life. I Always enjoyed visiting you all. One of the best Memories l have is the Luncheon she prepared when Granny brought us up there. That day riding horses with Kelly was one of the best days of my life. I hope Everyone is Happy and Healthy. I wish l could see you all again. Sincerely, Annette Marie
---
Sign the Guest Book for Brame Proffit Spessard