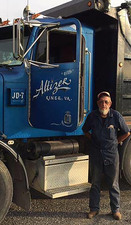 Freddie Davis Altizer
December 12, 1942 - April 19, 2021
Freddie Davis Altizer, 78, passed away peacefully at home on Monday, April 19, 2021. He was born on December 12, 1942 to the late Donnie D. and Virginia L. Altizer. He is also proceeded in death by his younger brother Paul Wayne Altizer. Freddie was born and raised in Riner on the family farm and that is where he raised his family and built his legacy. He was a dedicated and loving husband and father. He graduated from Auburn High School in 1961. His love for trucking started at an early age, during his last two years of high school he drove a school bus and helped his father with his milk truck route. After graduating high school, he purchased his first dump truck and agricultural spreader truck and started Freddie Altizer Trucking. Over the next 60 years he built and ran a successful long haul and local haul trucking company. Freddie was a member of the ATHS (American Truck Historical Society) and was a recipient of the ATHS 50 Year Achievement Award in September 2016 for his years of dedication and service to the trucking industry. When Freddie wasn't trucking, he spent his time farming and caring for the family beef cattle herd. He also enjoyed collecting antique tractors, antique tractor pulling with his children and friends, and participating in the local annual tractor ride. In his later years he enjoyed his morning coffee time at the Riner Food Center with friends and being out on the farm on his golf cart. Left to cherish his memory is; his wife of 50 years, Phama Altizer; son and daughter in law, Josh and Brandy Altizer; daughter and son in law, Tara and Adam Lephew; and grandson, Avery Lephew; all of Riner. Funeral service will be held on Wednesday April 28, 2021 at 2pm at Gardner Funeral Home with Pastor Mike Battle Officiating. Interment will follow in Roselawn Memorial Gardens. The family will receive friends two hours prior to service time. If you choose to come to the services, please wear a face mask inside of the facilities due to COVID-19.
---
Guest book
Randy Warden

April 23, 2021
So sorry to hear this l will surely miss him
---
Jake&Joyce Bain
Stuart, Va 24171
April 23, 2021
Our sincere condolences to the family of Freddie wife son & wife daughter & husband little grandson many other relatives. love you Jake n Joyce
---
C. C. Dalton Jr.

April 24, 2021
We are sorry for the lost of Freddie. He was a good worker and a good friend and kind to everyone. We will miss him.
---
Regina and Jess Cox
Floyd, va
April 24, 2021
Freddie always had witty comebacks during his physical therapy sessions. Always tried to please, I know this, as he didn't seem enthused about therapy but always tried. Great guy and a friend to Jessie and lots of others
---
Steve Phillips

April 24, 2021
He will be missed greatly. Sorry for your lost.
---
Randal & Diane Midkiff
Floyd, BA
April 24, 2021
With deepest sympathy to the family. We will Remember Freddie for that great smile and his laugh and always ready to help when my John Deere needed a little help! He will be missed Randal and Diane Midkiff
---
Rena Rickey
Dublin, VA
April 27, 2021
I remember Freddie from my days of handling his insurance when working with Sam Nixon. He was a wonderful man and I know he will be missed. Love and Prayers to Phama and the family.
---
Bryan & Lindsey Smith
Christiansburg, VA
April 27, 2021
Freddie will be so greatly missed, but so fondly remembered by our family!
---
Jeffrey, Crystal & Eli Hicks

April 27, 2021
We are so sorry for the loss your family is suffering. Freddie was a very kind and joyful person to be around. Our prayers are with you all during this difficult time.
---
David Akers
Narrows,Va
April 27, 2021
Fred will be greatly missed he was a good man to be around and learn from, I am honored to have known him. May God bless each of you during this time, praying for all of your family
---
Sign the Guest Book for Freddie Davis Altizer