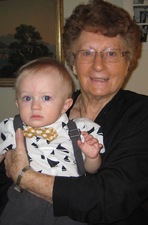 Betty Brammer Slusher
May 18, 1933 - May 05, 2021
Betty Slusher, age 87, of Floyd, passed away on May 5, 2021. She was born May 18, 1933 in Floyd Virginia to Wilton S. Brammer ("Bub") and Ora Correll Brammer ("Granny Duck"). Betty lived in Floyd her entire life. She was born and raised in the New Haven Baptist Church area and moved to the Laurel Branch Church of the Brethren neighborhood after her marriage to Bud in 1968. Betty was a devout Christian and always willing to share her extensive knowledge of the Bible and her love for Jesus Christ. She took great pride in teaching Sunday School at Laurel Branch for many, many years. Betty also had a passion for gardening, both vegetables and flowers. She was known for always growing more than she needed to share with her neighbors and friends. Her flowers were always lovely, particularly her "Monkey Faces" which graced the front porch of her home for decades and poinsettia's which she often kept year after year. Betty's most important profession was wife and mother. She dearly loved her family, both related by blood and friends adopted by love. Christmas was her favorite holiday, despite never wanting anything she was always impatient to open her gifts and loved every angel that decorated her tree. Her love for others often meant that Christmas cards from around the world decorated every door frame in the house. Betty loved her connection to other people. She cared for everyone with love and devotion, often caring for friends and family members as they aged and needed extra assistance. Betty will be deeply missed by all those who knew and loved her. She was predeceased by her parents and three brothers, Clifton Brammer, Jack Brammer, and Eddie Brammer. Betty is survived by her husband, Charles "Bud" Slusher, two sons, Aaron Slusher of Ferrum Virginia and William Slusher (Jacquelynn) of Waynesboro Virginia. She was Grandma to one beloved grandson, Lincoln Slusher of Waynesboro Virginia. One sister, Sue Young (the Rev. Ronald) of Fincastle Virginia, and one brother, Billy Brammer of Floyd Virginia, survive as well as many nieces and nephews. Visitation will be at the Gardner Funeral Home in Floyd Virginia on Sunday afternoon, May 9, 2021 from 12:00 Noon until 1:30 PM. A graveside funeral service will be held following visitation at 2:30 PM at the Slusher Cemetery on Laurel Branch Road in Floyd.
---
Guest book
Kathy Legters
SEATTLE
May 07, 2021
I felt Betty's love the first time I met her and on subsequent visits. She brought light to the lives of so many. She will be missed but the love and light will never end. Blessings to all.
---
Ron Patterson
Middletown,DE
May 07, 2021
While I only got to know her for a very short time. She welcomed me In her home and church. It's a time in my life I always think about and smile.
---
Gail Tankersley
Floyd
May 09, 2021
It's hard to find words that Express how special Betty was to me. She was there to give counsel when I needed it, support, understanding and love. You will be missed, but I know you are now home with the Lord you lived and shared with so many. Until we meet again. Love you all and holding you in my thoughts and prayers.
---
Sign the Guest Book for Betty Brammer Slusher