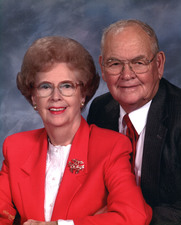 Theodore Roosevelt Via, Jr.
August 02, 1935 - May 13, 2021
On Thursday, May 13, 2021, Theodore Via Jr. of Floyd, VA, a loving husband and father passed away at age 85. Theodore was born August 2, 1935 in Floyd, VA to the late Theodore and Zelma "Susie" Via. He is preceded in death by his son, Gerald and infant daughter, Susie Lee. He is survived by his loving wife of 67 years, Louise Compton Via and his children Mark (Karen) Via of Floyd, VA, Sarah (Michael) Browning of Copper Hill, VA, and daughter-in-law, Vicky W Via of Roanoke, VA. His grandchildren, Melissa V. Johnson of Fincastle, VA, Angela (Mike) Myers of Floyd, VA, Patricia Moore of Roanoke, VA, Laura Lee (Brandon) Allen of Floyd, VA, Ryan (Sarah) Browning of Daleville, VA, and Matthew (Stephanie) Browning of Troutville, VA. His great- grandchildren, Ashleigh, Emma, Eli, Trevan, Kaylee, Ashby, Addison, Nash, Tucker, Sada, Abigail, Hannah, Peyton, Elliana, and Adelyn. Also surviving are his brothers, George (Thelma) Via and David (Lois Ann) Via. His sisters, Lena Taylor and Pearl Johnson. His passion was his family and taking the grandkids and great-grandkids riding on his golf cart and making his daily rounds through the neighborhood to check on all his neighbors. Visitation will be held Saturday, May 15, from 5:00 to 7:00pm at Gardner Funeral Home in Floyd, VA. Funeral Services will be held Sunday, May 16 at 2pm at Gardner Funeral Home. Interment will follow at the Lee Cemetery, Tuggles Gap. Services will be conducted by Pastor Jeff Hudgins. In lieu of flowers the family ask that donations be sent to the Floyd Baptist Church, P.O. Box 58, Floyd, VA 24091 and/or Floyd Rescue Squad, 452 Floyd Hwy. N., Floyd, VA 24091.
---
Guest book
Clint Lawrence
Moneta Va
May 13, 2021
Soory to hear about Mr Via my condolense to the family
---
Mary Weddle Fainn
Oakboro, NC
May 13, 2021
Sarah, I am so sorry for the loss of your father and your brother. Please know I am praying for you all.
---
Phyllis H Quesenberry
Willis Va
May 14, 2021
---
Missy Ring
Roanoke, VA
May 14, 2021
Sarah and family: Keeping you close in my thoughts for comfort during this extremely difficult time of loss.
---
Daniel Jennings
Salem VA
May 14, 2021
---
Lane & Pam McAlexander
Pilot Va
May 15, 2021
So sorry for y'all lost praying for the family
---
James McAlexander

May 16, 2021
Definitely going to miss you Uncle Theodore. Your smile and conversation always were a highlight of my trips to the mountains. You meant the world to us all and especially my boys when the got the rides on the golf cart. Rest in peace.
---
Laura Vazquez
Fairlawn
May 25, 2021
Dearest Sarah and family, There are no words to say at this time. Please know you and your family are in my thoughts and prayers in the days and months to come. I am truly sorry for your loss.
---
Sign the Guest Book for Theodore Roosevelt Via, Jr.