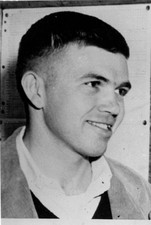 Robert Garland Nester, Jr
June 07, 1926 - May 27, 2021
Robert Garland "Bob" Nester, who died May 27, 2021, loved the game of golf. Together with other Floyd County golfers, he was a founding member of Great Oaks Country Club, which was home to a nine-hole course that opened in 1968. The beautiful mountain course that they created was expanded to 18 holes in 1992, drawing golfers from all over Virginia and the nation. His contribution, along with the contribution of the other founders is memorialized on a plaque by the clubhouse door. He was club president for four years, spread over two terms. His childhood was spent in the town of Floyd, after which he moved with his family to the community of Falling Branch in 1940, where he lived until his death and was an active member of the Falling Branch Church community. He had two siblings, a brother Hugh, who now lives in Richmond, Virginia, and a sister Lois Ann, who is deceased. He served his country in the Pacific theater during World War II as a sailor aboard the ammunition supply ship Wrangell, earning four battle stars and seeing action during the crucial battle of Iwo Jima, where he witnessed the famous raising of the United States flag on Mount Suribachi. After the war, he continued to contribute to the defense of his country, working at the Radford Army Ammunition Plant for 30 years as an employee of the Hercules Powder Company. For several years, he was post commander of the Floyd chapter of the Veterans of Foreign Wars, where he was active in chapter activities, including military funerals and the display of United States flags on important holidays in the town of Floyd. His service to Floyd youth included time spent as assistant scout master of troop #36 of the Boy Scouts of America. He was a loving and devoted husband to his wife Betty (formerly Betty Louise Slusher). They were married in 1947 and raised two sons, Richard and Allen. A graveside service will be held at Jacksonville Cemetery, Floyd, VA, on Sunday, June 6, at 2 pm., followed by a meal at the Falling Branch Methodist Church, Floyd Highway South. In lieu of flowers, please make contributions to the Falling Branch Methodist Church. Services provided by Gardner Funeral Home, 202 E. Oxford St., Floyd VA, 24091, (540) 745-2007.
---
Guest book
Vicky W Via
Roanoke, VA.
June 01, 2021
Allen, Very sorry about your dad. Prayers to you and your family.
---
Joe Harris
Irving, TX
June 02, 2021
A true southern gentleman. Fond memories spending time with him and playing golf with him at SGGA events. He will be missed but never forgotten. Condolences to the entire family.
---
Brenda Handy Hopkins
Floyd,VA
June 02, 2021
Bob was a good friend and golfing buddy with my dad & mom. I know the four were golfing & traveling friends too. How blessed they were to be close and have wonderful memories together! I aways enjoyed Bob's stories and hardy laugh. He will be missed here on earth but I'm praying there's a heavenly party happening for the three of them right now. Prayers for both of you and your families!
---
Robert Martin
Floyd
June 03, 2021
Sorry for your loss. Bob will be greatly missed by His Great Oaks friends and family. Prayers for the family.
---
Donna Welch
Salem, VA
June 04, 2021
---
Curtis Nester
Moneta, VA
June 04, 2021
So sorry to hear of Bob's passing. We used to have long conversations about our family history at the reunions. Our prayers and condolences to all of the family. May God comfort and strengthen you all.
---
jack shortt jr
roanoke va
June 06, 2021
richard and allen , sorry about your loss, Richard , stay on the log. JACK
---
Frits Brady
Floyd, Virginia
June 06, 2021
I want to pray for the people, who are still living. I've known Allen Nester- for many years.
---
Sign the Guest Book for Robert Garland Nester, Jr