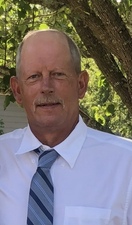 Kent Quesenberry
April 06, 1961 - May 31, 2021
Kent Quesenberry, age 60, passed away surrounded by loved ones on Monday, May 31st, 2021. He is preceded in death by his father Avis Quesenberry, sister Loretta Quesenberry Templeton, brother Gregory Lane Quesenberry, and father-in-law Bill Robbins as well as cherished grandparents, other family, and friends. Kent was an outstanding husband, father, and friend to everyone he knew. He is survived by his best friend and wife of 35 years Joni, his treasured daughters Billie Quesenberry (Kerry) and Jessie Quesenberry (Wesley), his mother Joyce Quesenberry, two sisters Karen Coleman (Rob), Juanita Linkous (Jimmy), two brothers Bruce Quesenberry (Sharon), Pat Quesenberry (Sabrina). Uncle Kent adored and was so proud of all his nieces, nephews, great-nieces, and great-nephews. Also in survival are his mother-in-law Jody Robbins and special sisters-and-brothers-in-law. Kent will be especially missed by his beloved fur-son Crash and their treasured rides to the river. Kent was the proud founder and owner of Riverbluff Plumbing since 1995. He went into business for himself to provide the best life for his family. He began plumbing in 1982 and was a Master Plumber and Class B Contractor who took pride in his work. He was diligent and ethical in everything he did. He was a master in his trade and built many houses in the Floyd and Montgomery area. It was recently said "Kent was not just a Master Plumber he was a Master at life." He will be greatly missed amongst the construction community. Any time you see a river just know one of Kent's favorite things to do was just sit by the river and listen to the water. He attended every single sporting event or honors ceremony that his daughters had. Every single one. He supported his friends and family in anything they did and offered his wisdom for every situation. Kent did not know a stranger and could make anyone's day with a "Good Morning Young Man or Woman" greeting. He loved watching sports, especially Duke basketball and his favorite football team the Raiders. Most importantly Kent loved his family more than anything. The loss of Kent will be felt forever by those who knew him. A graveside visitation and service will be held at Jacksonville Cemetery in Floyd, VA on Saturday June 5th, 2021. The family will receive friends from 10am-11am and a service will follow at 11am.
---
Guest book
Jackie & Ellen Akers
Riner,Va
June 02, 2021
We are so sorry for your loss.We thought the world of Kent,actually the whole family.He will be greatly missed.Joni we are praying for you,Billie and Jesse.
---
Donna Hodges
Bent Mountain
June 02, 2021
Mike and I are so sorry to hear of Kent's passing. He was a great friend and a great man. May the memories comfort your family during this time of sorrow.
---
Dwight Spence
Floyd Va.
June 03, 2021
Joni I'm so sorry for your loss. Kent was a good man, I always consider him a good friend.God bless you and your family.
---
Dorcas Nichols
Indian Valley
June 03, 2021
My deepest Sympathy to Joyce and family and to Joni and girls. My heart is HEAVY but I have so many happy memories of Kent from my childhood from his house to our house to grandmas house we ran and played and got up hay played in the creek watched the lightning bugs and made memories to keep me today. He will be truly missed.
---
Dale Smith
Christiansburg
June 03, 2021
We have many Contractors which we do business with and Kent was at the top of the list. His quality of work and timely job completion was essential to our success . Most of all he was a great friend who was a joy to talk with. Most of our conversations centered around our families. I could tell where his priorities lay.I sincerely feel for the sorrows you are going thru. Dale Smith
---
Tonja & Gabe Bucca
KNOXVILLE
June 03, 2021
Dearest Joanie & Family - We are very saddened to hear of the passing of Kent. We always wish we could find the perfect words to say and the perfect time to say them but please know our hearts are with you and your family today and everyday as you continue to heal from the loss of Kent. We are praying for all of you. We Love You, Tonja and Gabe
---
Jody Robbins
Floyd, VA
June 03, 2021
For 35 years plus, more than a son-in-law, Kent was the son Bill and I never had. We called him for everything and he was there in a minute with excellent advice. He will surely be missed by the family. An excellent father to my two beautiful granddaughters. Everyone that knew Kent will surely miss him. I will love you always. Your loving mother-in-law, Jody
---
Charlene Yancey
Dublin Va
June 03, 2021
Kent was such a wonderful man. He will be sadly missed by everyone who had the privilege of knowing him. The first time I met him, I could tell how much love he had for his family and how much love his family had for him. Even as I am shedding tears for your loss, I'm honored to remember one of the best people I have ever met. You are all in my thoughts and prayers.
---
Bob, Karla and Jodie Huff
Dugspur, VA
June 04, 2021
It is with sad hearts to learn of Kent's passing. Our deepest sympathies to Joni and all of Kent's family and friends. And especially to the Robbins family, some of our oldest and dearest friends. Prayers, Bob, Karla and Jodie Huff
---
The MacWoodard-Vladyka Family & Pat
Check
June 04, 2021
Dear Joni, Billie, Jessie and Family, We were saddened to hear of your loss. We hope and pray that God will confront you and wipe away your tears and heartache during the difficult times ahead. Please let us know if you require any assistance. We will continue to think of you and send prayers of comfort to all of you. Dawn, Troy, Ryan, Cora, & Owen MacWoodard-Vladyka and Pat Underwood
---
Ron Coakley
Roanoke, Va
June 04, 2021
My deepest condolences to the Quesenberry family. I never had the pleasure to meet Kent but I know and worked with his brother Pat. I'm sure Kent was cut from "the same cloth" as Pat and deserves the respect and love he garnered. May he rest in peace and his family find solace in knowing he was a good man.
---
Rita F Turpin
Floyd
June 05, 2021
Sending strength, care and support to everyone in your family.
---
Anita Wimmer
Floyd, VA
June 05, 2021
Ashley and I are so saddened to hear of the loss of Kent. A great man loss way to soon. Joni, you and your family are in our thoughts and prayers.
---
John and Melanie Harkness
Turman Drive
June 05, 2021
Joni, Sad news indeed! Thinking of you and your girls. I'll miss Kent's friendly smile and wave on my morning walks. John
---
Sheryl VanDusen
Vernon, B.C. Canada
June 14, 2021
Kent, from the first moment I met him 35 years ago, struck me as a true gentleman and a man deeply in love with Joni, who was soon to be his mate for life. Through the years it was always welcome news to hear of Kent's full work load and how much he enjoyed his work and his thankfulness for his good fortune.. My visit to the family 10 years confirmed Kent's great personality, self effacing manner, soft spokeness, friendly and helpful nature and his total devotion to Joni, Billie and Jessie and his plumbing business. I share the grief and shock.
---
Nancy Wade
Dublin, VA
June 28, 2021
Joni, I am so very saddened to hear the news of Kent's death. As I keep a framed picture of our Macado's lunch group on my dresser, I think of us often and as forever young. I remember meeting Kent at a Melissa Etheridge concert, feeling like I already knew him from all of your funny stories. Peace to you and your girls, Love Nancy
---
Sign the Guest Book for Kent Quesenberry