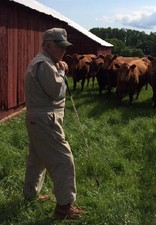 Charles Edward Hall
February 09, 1942 - June 17, 2021
Charles Edward Hall, 79, of Floyd, went to be with the Lord, June 17, 2021. Charles was a lifelong farmer for over 60 years. Charles loved all aspects of farming and made numerous lifelong friends through the selling of cattle and hay. He helped form the Blue Ridge Bank in 1982, which is now Carter Bank and Trust, serving as director since its inception. He was on the Board of Directors for Floyd Co. Farm Bureau, serving as President for 5 years. He was a member of Harvestwood Presbyterian Church. He proudly served his country as a combat engineer during the Vietnam war. Survived by his loving and devoted wife of 57 years; Shelby Weeks Hall; one son and daughter-in-law; Mark and Kim Hall; one daughter and son-in-law Michele and John Gallimore; Grandchildren: Ashley (Triftan) Poff, Austin Gallimore (Fiancé Michaela Thompson); Great grandchild Hadley Poff; one Brother; Pete (Rachel) Hall. Several nieces and nephews. Beloved dog; Mollie. Numerous friends and neighbors. Funeral services will be Monday, June 21, 2021, at 11am at Gardner Funeral Home with Pastor Duncan Rankin and Pastor Roy Turpin officiating. Internment will follow in Graham Cemetery with military rites by VFW Post #7824 and American Legion Post #127. The family will receive friends Sunday June 20, 2021, from 5-7 pm at Gardner Funeral Home. Flowers will be appreciated, or donations may be made to the Graham Cemetery c/o Shelby Hall 931 Starbuck Rd SE Floyd, VA 24091. Online condolences may be made at Gardnerfuneralhomefloyd.com. The family is being served by Gardner Funeral Home.
---
Guest book
Wills Ridge Supply Inc
Floyd VA
June 18, 2021
We extend our deepest condolences to Charlie's family. Among many here, he will be greatly missed. During this time, may the Lord give you strength.
---
Don and Marie Lester
Floyd Va.
June 18, 2021
We are so very sorry for your loss. Love and prayers for all.
---
Frits Brady
Floyd, Virginia
June 19, 2021
This is Frits Brady. I know this whole family, for many year. I know some of the grandchildren. I will put the people still living, in my prayers. May God Bless You ln Jesus Name.
---
Diane McBroom
Floyd VA
June 19, 2021
Charles was a great man. His hard work and dedication to his craft allowed our horses to thrive. He was a good friend and wonderful neighbor. My heart goes out to Shelby and the family. He will be missed.
---
Swede McBroom
Pilot, VA
June 20, 2021
So sorry, Shelby, that Charles has passed. What a wonderful man! All the best to you and family. Oxo
---
Jean Thomas Schaeffer
Floyd originally - now H'burg, VA
June 20, 2021
Shelby, I am so sorry to hear this. I thought a lot of both you and Charles. You and your family - also Pete and family (all of you good people) - have my deepest sympathy.
---
Sandra Poff
Floyd VA
June 21, 2021
So sorry for the loss we are thinking of you all prayers
---
Pamela Jo Slaughter
WILLIS
June 21, 2021
Thinking of you all, so very sorry for your loss of such a sweet and amazing man. Sending each of you my love.
---
Bobby & Lucy Conner
Nathalie
June 21, 2021
So glad to have known Charlie all these years serving on the Carter Bank Board. He was an asset to our board. We shared many farming stories through the years. Sorry for your loss, he will be missed. Bobby Conner
---
Ben Harmon
Olive Hill, KY
June 23, 2021
Although I'm saddened to learn of the passing of Charles, I'm happy that he was able to follow his dream of being a life-time farmer. When I was a HS freshman and in my first year of FFA, I looked up to Charles, a senior, and the other upper class FFA officers. I know that through the years many people benefited from his strong leadership. Prayers of condolence for his family and friends.
---
Sign the Guest Book for Charles Edward Hall