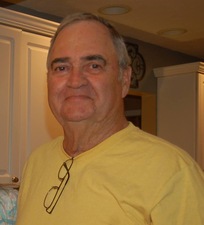 Richard Earl Wimmer
May 12, 1940 - July 08, 2021
Richard Earl Wimmer, 81, of Floyd, VA, made his journey to be with the Lord on July 8, 2021. He was born in Huffville, VA on May 12, 1940, to the late Earl Paralee Wimmer and Kate Epperly Wimmer King. He was preceded in death by his brothers, Earl King and Lane Wimmer; sisters, Audrey Brown, Mary Ann Peters, and Gwinn Angle. He is survived by his wife of 55 years, Linda Covolo Wimmer; Daughter, Becky (Andrew) Lewis; Son, Andy (Angel) Wimmer; Grandchildren, Ryan, Jessica, Kayla, Karli, Gavin, Layla; Brothers, Sid Wimmer, John King; Sister, Sarah Quesenberry. He began employment with Thomas Brothers where he worked for many years. He started working for LH Sawyer in 1978 and retired from Boxley Asphalt in 2010. He took pride in being a dedicated hard worker. His favorite place was sitting on his porch. We thank those that took the time to wave at him as they passed by. He was a very humble man that never met a stranger. He was very proud of his family and the home he created. A Memorial Service will be held at 5pm Saturday July 10, 2021, at Gardner Funeral Home. The family will receive friends one hour prior to service time . A private Interment will follow at a later date. In lieu of flowers Donations may be made to the Floyd County Humane Society at P.O. Box 862 Floyd, VA 24091 or online at https://www.floydhumanesociety.org/donate.
---
Guest book
Vickie Williams
Floyd
July 08, 2021
I am so sorry for your loss! I will be praying the family.
---
Mike and Barbara Wilson
Floyd, Va
July 08, 2021
Sorry for your loss. You all are in our thoughts and prayers. We will miss seeing Richard sitting on the porch.
---
Rhonda Foster
Salem,VA
July 09, 2021
Andy, we are very sorry for your loss. I want to send our condolences to you and your family. Rhonda Boxley Asphalt
---
Stan Puckett
Roanoke, Va
July 10, 2021
Fond memories of working with Richard in the earth moving and asphalt industries. He was always willing to pass his knowledge to the younger guys working for him. He will be greatly missed.
---
Jill Divers
Roanoke, VA
July 10, 2021
I knew Richard (and Andy) from working at L.H. Sawyer Paving Company. He was a quiet person but was well respected for the work he did running the Asphalt Plant. My sympathies to his family.
---
Gerry And Sandra Shank

July 10, 2021
We are so sorry for your loss. Thinking of you and uplifting you in prayer. Gerry and Sandra Shank
---
Sign the Guest Book for Richard Earl Wimmer