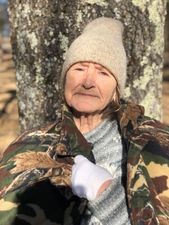 Carolyn Ann Fernandez
April 06, 1944 - July 11, 2021
Carolyn Ann Fernandez, 77, of Floyd, passed away on Sunday, July 11, 2021. She was a dedicated mother and grandmother, she was a very selfless and strong willed her life revolved around her family, she always had open arms for anyone that needed help and a giving heart that never stopped giving, she was a strong independent woman, that cared for everyone, she is proceeded in death by her mother Alberta Patrick, father Bruce Lycans her children a set of twins Jena and Tina, two sons Marque and Wayne and several brothers and sisters, she is survived by children Michael Fernandez, Keith Fernandez, Jodi Myers and Jodie Perez, Grandchildren Kayla Fernandez, Chris Perez, Sarah Neece, Kimberly Perez, Lisa Fernandez, Nicole Powell, Brian Alger, Christina Alger, Michael Fernandez, Angela Jones, Andy smith, Kellee ray Blackmon, Kayla Mullins, numerous great-grandchildren, and several brothers and sisters. A private family service will be held on Saturday, July 17, 2021, if anyone would like to come and pay respects please contact (540)250-8429.
---
Guest book
Calla Miller
Glenvar, Va
July 13, 2021
I give my condolences for the family. Carolyn was a beautiful soul and a wonderful grandmother to my best friend, who is her granddaughter, Kayla. Rest in peace.
---
Bobbie Jo Lykins Sardo, Bruce Lykins, Debby LykinsDebby
Coleman, Tx Bartow FLA.
July 15, 2021
Most giving kind hearted, loving person I have ever known. She was my best friend as well as my sister. Our world will be a sadder place without her in it. She is much loved and missed.
---
Jim. And. Mary G allagher
Acworth ,Ga
July 15, 2021
So sorry for your loss may heavens angels wrap you in their wings until you no longer hurt
---
Bobbie Jo, Debby, Bruce Lykins
Coleman, Tx and Bartow Fl
July 16, 2021
Most loving, giving and sweetest sister you could ever have. We will miss her deeply.
---
Betty Jean Rose
Burbank Ca
July 17, 2021
Carolyn was my beautiful cousin that I grew up with from 3 years old to late teens. We played, laughed, cried, together we were like sisters.So many memories I wish I could share. Carolyn literally saved my Mother's life. I miss her and she will always live in my heart forever. She is at peace now and will be missed terribly. The most giving heart ever!
---
Ronald Clifford Williams
Anchorage, AlaskaA
July 17, 2021
---
Ronald Williams
Anchorage Ak
July 17, 2021
To the family of Carolyn Ann Fernandez My heart is deep with sadness on the passing of my cousin Carolyn She was a sweet soul caring for everyone around her My memories of Carolyn in Ohio and Tampa Florida during the 40s 50s and 60's will never be forgotten. I give my deepest sympathies to her children and grandchildren Do you have my daily prayers and sympathy during this time Rest in the arms of our Lord Carolyn. Ronald Clifford Williams
---
Jodie Perez
Riner
July 21, 2021
I love u mom with all my heart I miss you terribly. I am glad you are in your final resting place you didn't deserve to be in that last stage of your life. You are a wonderful mother, person and I hope one day to be half the person you are. You will always be always missed mom. Love you always. Your Daughter
---
Sign the Guest Book for Carolyn Ann Fernandez