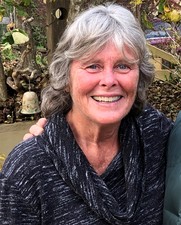 Maureen Hearn
July 29, 1947 - July 22, 2021
Maureen Hearn died July 22, 2021, surrounded by her loving family. She was born July 29, 1947, in Boston, Mass to Warren and Barbara Hearn and grew up in Connecticut. She leaves her son, Russell (Krista) Nickman, siblings, Stephanie Julian, Tom (Lisa) Hearn, Karen (Mark) Diamond, Christine Hearn, and step-grandmother, Ingrid Hearn. She leaves beloved nieces and nephews...Dylan and Dustin, gone too soon, Jackson, Rama (Maggie), Zach (Cayden, Lane), Dean (Lindsay, Miles), Sonya (Joe), Maggie (Chris), and Brant (Kelly). Her cousins Johnny, Wes, and Paco Gelpi. "What an amazing life I have lived...the breadth and scope of my experiences has given me an understanding of many sides of the equation...not that I haven't been a major idiot during portions of my time on earth! My life has been full...what a blessing to have family as friends and friends as family! I moved to Copper Hill, Virginia in 1976. It was a thrilling move "back to the land". Floyd County was a welcoming place and the beginning of life long friendships. I eventually became a jeweler and sold my work at art shows for well over 30 years. I want to thank ALL my wonderful friends for their love, support, food, calls, champagne, texts, emails, flowers, cards, letters, visits, and help. You made it all worthwhile! You are truly loved and appreciated. Thank you so very much!" A memorial service will be held at a later date.
---
Guest book
Diane B Jones
Fern Park, Seminole County
July 25, 2021
I had the honor to know Maureen as a dear friend for over forty years. I will miss her energy, her contagious smile, and her zest for life. I have no doubt she will embrace her transition with the same spirit she did in life. Love you Moe, Diane
---
Kathy Hudson
Salem va
July 25, 2021
So sad to hear of Maureens passing. We spent many happy times with the Va Mtn Crafts Guild gatherings and shows. A very talented lady with a great personality
---
Judie Ghidinelli
Benicia, Ca
July 26, 2021
Moe has been one of my best friends since 3rd grade. We had many adventures over the years. Although we didn't see each other as much as we would have liked, we stayed in touch by phone, email, and, later, text. Our paths have parted for now, but I am sure we will have more fun together one day. I'm gonna miss you, girl!
---
Brenda Ayers
Roanoke
July 27, 2021
I did now know Maureen personally, but saw her at craft shows and purchased some items. She was very friendly and nice to work with. Sorry for your loss.
---
Charla Hayen
Winchester, VA
November 06, 2021
I recently heard of Maureen's passing. I was so very sad to receive this news. I was an artist for many years in the craft show world. It was always a joy to see Maureen at a show I was participating in. She was always welcoming and open and a lovely person to have a conversation with. An added bonus was collecting a special piece of jewelry from time to time. Her work was so beautiful and I loved seeing new creations. She was a devoted artisan and a caring friend. I have been retired from the circuit for several years and when attending shows as a visitor I always looked forward to finding her booth and connecting with her. My condolences to her family and close friends.
---
Sign the Guest Book for Maureen Hearn